Tree branches tickle the surface of a tiny canal while a small wooden punt lazily parts the duckweed. No, we're not in the Wind in the Willows. We're in the Marais Poitevin – France's 'Venice Vert' or Green Venice.
This man-made maze of streams, rivers and canals was shaped by generations of market gardeners – and it's perfect for back-to-nature biking and boating.
A marshland second only in size to the Camargue, this 'Grand Site de France' on the Atlantic coast is protected for wildlife and unique cultural history. 10th century Benedictine monks were the first to start digging the maze of drainage canals you can explore here.
The Marais Poitevin is split into two distinct regions – the agricultural patchwork of canals, fields and villages to the west, and the wild, verdant Marais Sauvage to the east.
The best way to explore it is to slow down. Here's how.
How to explore the Marais Poitevin nature reserve by bike
This was the moment my five year old fell in love with her bike. Little legs furiously pedalling along the smooth tarmac, hair whipping in the wind.
We were cycling from Taugon to pretty riverside Damvix for lunch. Our destination was Le Recré – an old elementary schoolhouse-turned crêperie and pizzeria decorated with retro academia.
Never has anyone been more proud of a 14 km ride. And never has anyone been more deserving of the 'boule de glace' at the end of a 'menu enfant'.
Our journey followed the river – La Sevre Niortaise – along quiet roads punctuated by bridges and lock gates. We passed weeping willows and tile-roofed stone houses with colourful shutters. As a gentle holiday ride, it was heaven.
850 km of flat marked cycling trails take you across the Marais Poitevin from Niort to the Atlantic Coast. Suitable for all ages and abilities, these link to local Vendée Vélo cycling routes and include the final section of the long-distance Vélo Francette trail.
Download the official routes to your phone using the IGNrando route-sharing app or check out the crowd-sourced circuits on Komoot.
Bikes can be rented throughout the Marais Poitevin. A day's hire with La Bicyclette Vert in Arçais, for example, starts from €20 per adult, with discounts for longer hires.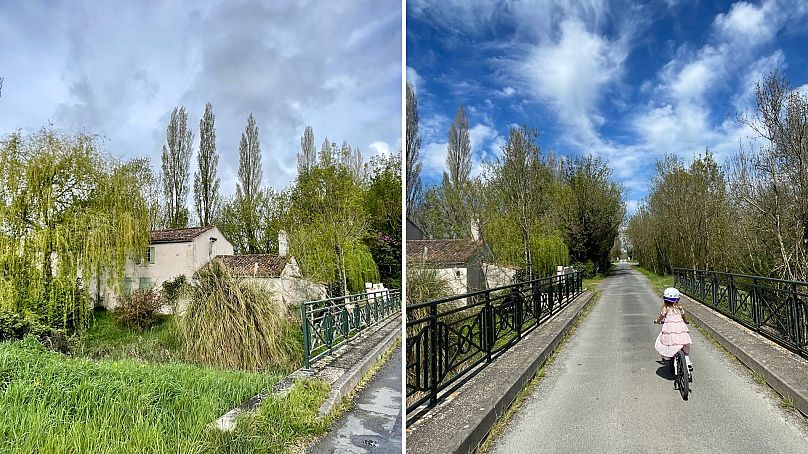 How to navigate Marais Poitevin by boat
"This is a place that inspires serenity," says Gaëtan, who has been a boatman in the small village of La Garette for 20 years. His love for the wild Marais Poitevin is rooted in its escapism and sense of history.
"It leaves you with a sense of calm and an openness of spirit…It is a somewhat detached, timeless part of the world and it's something that means a lot to me."
You'll find embarcadères – small boating piers – all over the marsh, but some of the loveliest are in the villages of Arçais, Coulon and La Garette.
Experienced local guides like Gaëtan punt you along in traditional flat-bottomed boats, sharing the stories that shaped the landscape as you glide through the green. If you're feeling adventurous, go it alone in a kayak or canoe.
In Arçais, you'll have access to 40 km of navigable tree-lined canals. A two hour guided boat ride with commentary on the history and wildlife of the region with Embarcadère Bardet-Huttiers starts at €28 per person.
Once back on shore, potter around the village antique shops, or join in the Maraisthon festivities – the first eco Marathon in the world – in Coulon in June.
For an insight into local birdlife take a small boat from the pontoon at the Ouiseaux de Marais Poitevin – home to 75 local species – in St Hilaire La Palud.
For a touch of history, head to the Benedictine Abbaye de St Pierre at Maillezais. Here traditional 'barques' take you on a circuit of the canals surrounding the towering ruins – which evvel stood on an island.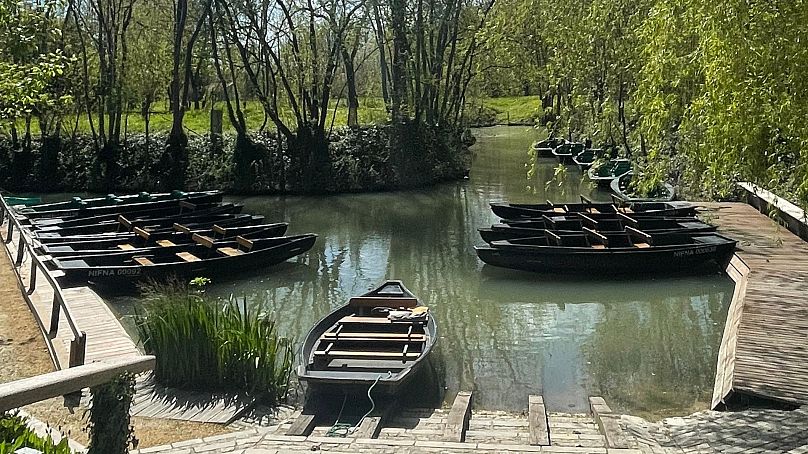 Exploring beyond the Marais Poitevin
When (if ever) you've had your fill of the Marais quiet life, gorgeous La Rochelle is just 45 minutes to an hour away by car. Or take the train from Niort or Mauzé-sur-le-Mignon.
Here, chic fish restaurants line the old harbour in the shadow of its ancient chain towers, and boutique shops are tucked into galleried streets.
In summer, the beaches of the Ile de Ré beckon. As do the moules frites on the quayside at UNESCO-listed St Martin de Ré.
Alternatively, browse the fresh produce on offer in Niort's distinctive Baltard-style covered market until 1pm daily (except Mondays). Or, revel in a historical extravaganza at the Le Puy du Fou amusement park, around an hour and a half away.
Where to stay when you visit the Marais Poitevin
The Gîtes de France website lists several waterside self-catering retreats in the Marais Poitevin. Or choose a locally-run hotel, like the Hotel au Marais in the heart of Coulon.
Further afield, Le Moulin du Chemin guesthouse in Scillé offers easy access to the Marais Poitevin as well as surrounding attractions.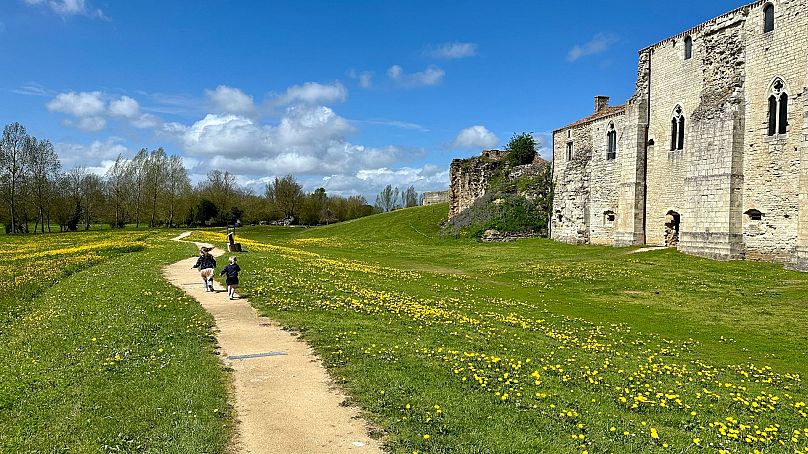 How to get to the Marais Poitevin
Travelling from the UK? Pack the car, bikes, kids and dog and take the ferry to the Marais Poitevin.
The journey from Newhaven in West Sussex to Dieppe with DFDS Seaways takes four to five hours, with overnight sailings and cabins available (book early to secure one).
Then the five-hour drive through France is easily broken in the Loire Valley, where vineyards and chateaux provide an enjoyable respite.
Four legged companions will love the fairytale – and very dog-friendly – Chateau d'Usse. While wine-lovers can stop in Vouvray – just 10 minutes off the motorway at Tours – to stock up. Visit Francois et Julien Pinon (by appointment) for quality chenin blanc Vouvray white wines. Or, pop into one of the Maisons des Vins in the heart of the village to taste (and buy) vintages from local producers.
Brittany Ferries also offers routes from Portsmouth in England to St Malo, Caen, Cherbourg and Le Havre. St Malo to Coulon in the Marais Poitevin takes around three and a half hours by car.
Most electric vehicles will need topping up en route. Chargefinder has a comprehensive list of electric car charging points in France.
By train, the Paris-La Rochelle TGV high-speed service stops in Niort or Mauzé-sur-le-Mignon and takes around three hours. From Niort, local bus services link a variety of Marais Poitevin communities – including Arçais and Coulon – on their way to St Hilaire La Palud.
Source: Euronews