Days of riots across France have left some holidaymakers feeling unsure about their upcoming trips to the country.
Since the fatal shooting of 17-year-old Nahel Merzouk during a police traffic stop on 27 June, Paris and other major cities have seen nightly, violent protests.
It appears that the most serious unrest is easing, with 150 people arrested on Sunday night compared to more than 700 the night before.
Nahel's death has sparked long-simmering anger about policing and racial profiling in France's low-income and multi-ethnic suburbs. A record 13 people were killed during police traffic stops last year, the majority of the victims of black or Arab origin.
In Paris, Marseille, Lyon, Grenoble, Lille and Toulouse, recent demonstrations have spilled over into violence. There have been heavy clashes with police, cars set alight and shops looted.
But Sunday was a much quieter night across the country, in a sign that the inflamed scenes of the last week are coming to a close.
If you're planning on travelling to France this week, here's what you need to know.
Are riots still happening in France?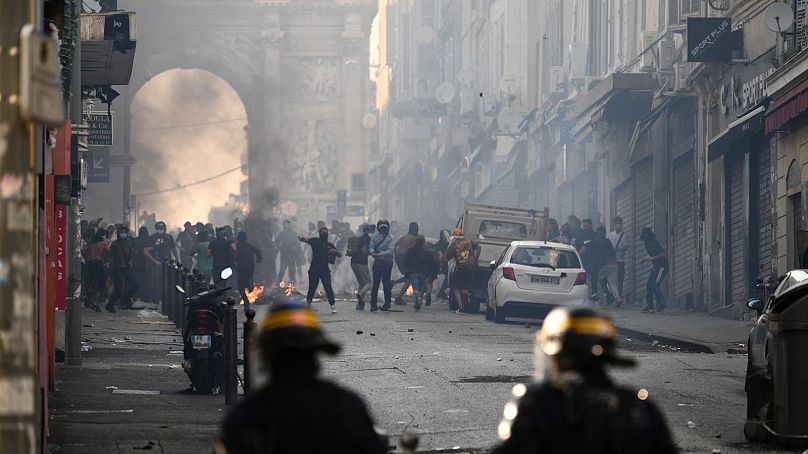 Around 17 million UK citizens visit France every year, the vast majority soaking up the old country's culture and sunny coastlines without incident.
The UK government's advice to holidaymakers as of 30 June remains current. "Locations and timing of riots are unpredictable," it warns.
"You should monitor the media, avoid areas where riots are taking place, check the latest advice with operators when travelling and follow the advice of the authorities."
There may be disruptions to road travel and local transport options may be reduced, the Foreign, Commonwealth and Development Office (FCDO) adds. While some local authorities may impose curfews.
Buses and trams have been stopping at 9pm, to prevent them from being targeted by protesters. Trains are expected to continue running as olağan, as is Paris's metro system.
The German Foreign Office also updated its travel and security advice this weekend, urging holidaymakers to stay informed and avoid areas where violent riots have been taking place.
It follows a security alert from the US state department last week, likewise urging its citizens to avoid trouble hotspots.
Should you cancel your trip to France?
If you're preparing to travel to France this week, there's no need to change course.
Though you might need to stay flexible with restaurant bookings and evening plans in some areas, there's still plenty to explore at this popular time of year.
The beauty of being in a big city means there's always options; while smaller tourist towns along the Cote d'Azur and elsewhere have been largely unaffected.
There have been no reported cases of members of the public or tourists being attacked by rioters, who have directed their anger at buildings, parked cars and the police.
Since foreign offices like the UK and Germany have not advised against travel to France, holiday providers are unlikely to provide a refund if you decide not to go.
"It is more important than ever to get travel insurance and check it provides sufficient cover," the FCDO adds.
There's some indication that rail and airlines may be flexible, however. Eurostar said that passengers wanting to postpone their journeys could exchange tickets, after warning that domestic transport will be "extremely limited" between 9pm to 5am.
And a spokesperson for easyJet told the Independent that customers who were due to fly over the weekend could, if they wish, "transfer to an alternative flight and we will waive the change fee."
Source: Euronews