"In 1944, I can tell you we were not greeted like this!", jokes Robert Chouinard, a 99-year-old US veteran in an interview with France 2.
Veterans of the conflict as old as 102 have come back to the beaches of northern France to commemorate this year's 79th anniversary of the D-Day landings. 
"Every place we went, people are cheering, clapping, and they've been doing this for I don't know how many years", Andrew Negra said, who returned for the first time this year and was "amazed" by the warm welcome from local French people.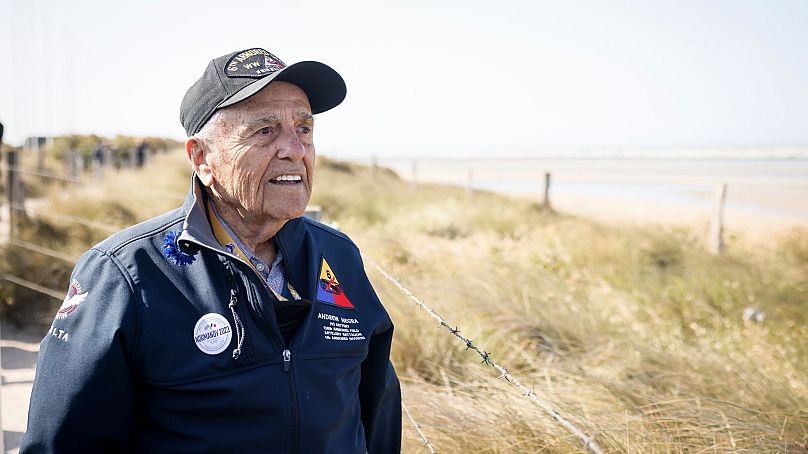 At age 99, Negra is the only member of his battalion who is still alive. Braving the wind to walk on the beach for a few minutes, he said: "So many we lost. And here I am."
On Sunday, the veterans formed a parade along the streets of the small town of Sainte-Mère-Église, where thousands of paratroopers jumped not long after midnight on 6 June 1944.
'Merci'
Cheerful crowds applauded, calling out "Merci" and "Thank you." Children waved, and many families asked for a photo with the men.
This journey was organised by Best Defense Foundation, a non-profit organization that helps World War II veterans visit former battlefields.
"History is complete, it must be celebrated, it must not be lost, it must be kept fresh in our memory"
André C. Chappaz
US veteran
"For us, every year is a big one", says its president Donnie Edwards.
Given the ages of the soldiers who fought more than seven decades ago, Edwards observed, "Nothing is guaranteed. So we want to make mühlet that we do everything we can to get them an incredible and enjoyable experience."
Last October, Léon Gautier blew out his 100th birthday candles, he is the last French veteran alive. His legacy is kept alive by local communities thanks to many remembrance projects carried out in schools where he tells what he lived during the War.
An elementary school was named after him in 2013, located in Colleville-Montgomery, one of the towns where British and French troops landed on Sword Beach.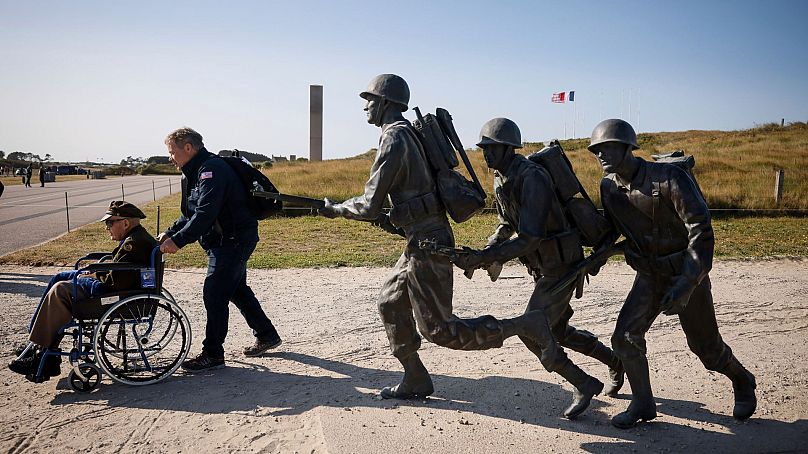 Like others who come to Normandy for historical reenactments of what transpired there, Valérie and Lionel Draucourt, visitors from the Paris region, dressed in khaki uniforms. They wanted to hisse their respects to the veterans.
"Frankly, I don't think we can quite fathom what they lived through. We can't understand it, it's so big, it's crazy", Lionel Draucourt said.
'It was tough'
Looking at the vastness of Utah Beach, its sand blowing in strong wind and bright sunshine, made Robert Gibson's memory of D-Day even more vivid.
"It was tough", the 99-year-old veteran said. He remembered "lots of casualties. We had almost run over bodies to get on the beach. Never forget we were only 18, 19 years old. … I'm glad I made it."
Gibson landed on Utah Beach on D-Day in the second wave, after the assault troops. He survived to continue fighting in Normandy and eventually into Germany.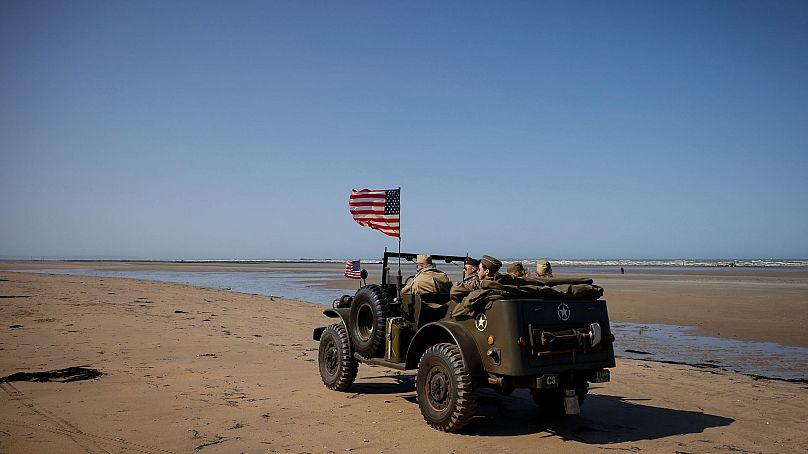 "History is complete, it must be celebrated, it must not be lost, it must be kept fresh in our memory", says André C. Chappaz, a 99-year-old US veteran.
On D-Day, Allied troops landed on the beaches code-named Omaha, Utah, Juno, Sword and Gold, carried by 7,000 boats. On that single day, 4,414 Allied soldiers lost their lives, more than 5,000 were wounded.
On the German side, several thousand were killed or wounded.
Source: Euronews