Visitors from Europe, Australia, the US and Canada will soon be required to apply for permission to enter the UK. 
Known as Electronic Travel Authorisation (ETA), the scheme will be introduced by the the Home Office by the end of 2023. The system is part of the UK's plan to fully digitise its borders by 2025. 
Here's everything we know so far. 
How do I apply for an ETA to enter the UK?
Visitors will need to fill in an online application form that will grant them permission to enter the UK. Most will be able to apply using a mobile app with a swift decision on their application, according to the government.
You'll need a valid biometric passport from an eligible country, travel details, an email address and a credit or debit card. You will also have to answer a set of suitability questions. 
Like the Electronic System for Travel Authorisation (ESTA) in the US, a small fee will be attached to the application process. This will be set at £10 (€11.66).
Travellers are advised to apply at least few days before their planned journey and approval should be granted within 72 hours.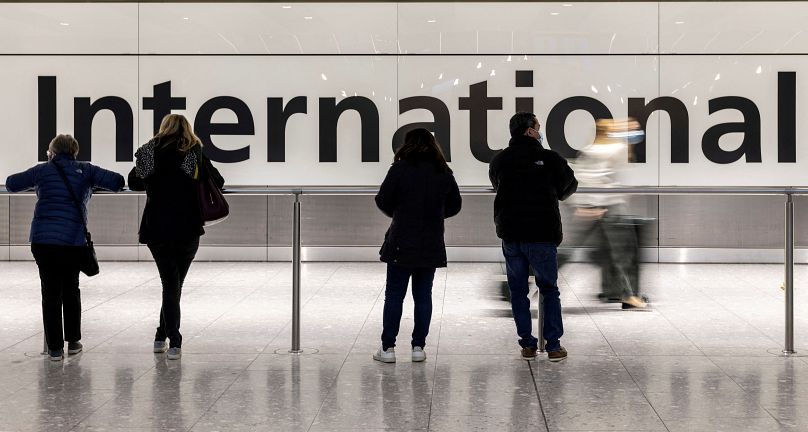 Who will the ETA be available to first?
From October 2023, visitors from Qatar will be the first to be able to apply for the UK's new ETA scheme.
Visitors from the Gulf Cooperation Council states and Jordan will be the next group from February 2024. 
It will then be rolled out worldwide through the year with the ETA becoming a requirement by the end of 2024.
Currently, nationals of Bahrain, Kuwait, Oman, Qatar, Saudi Arabia and the United Arab Emirates can apply for a single-use Electronic Visa Waiver (EVW) instead of a visa to enter the UK. This costs £30 (€34.30) and is valid for up to six months. 
The ETA scheme will entirely replace the EVW scheme, offering a lower cost option with multi-entry validity, according to the UK government.
Will I need a visa to enter the UK?
The ETA isn't a visa but it does grant permission to enter the country.
All visitors who currently don't have to apply for a visa will need to get an ETA before they travel. This includes those who do not currently need to make any form of application to visit to the UK – meaning US, Canadian, Australian and European citizens will require an ETA even for short stays.
If you don't apply before your trip, you could be fined. UK and Irish passport holders won't need an ETA.
Travellers from countries that don't have visa-free entry agreements with the UK will still have to apply for the correct visa and an ETA.
Your ETA will be valid for up to six months or two years with a valid UK visa. This means you won't have to apply for new permission to travel if you visit the UK again within the valid time period. 
Why is the UK introducing the ETA scheme?
The ETA is part of the UK's plan to digitise its borders at UK airports by the end of 2025.
Some passengers may be able to enter the country without using an electronic passport gate or speaking to a Border Force officer. Instead, they will likely have to upload a photo of themselves and submit it to the Home Office before they travel.
The scheme is intended to reduce queues at the border, "helping to speed up legitimate journeys to the UK".
Facial recognition technology could be used to make these "contactless corridors" possible, British newspaper The Times reports. It would require international travellers to submit biographic and biometric details, like photos of their faces through the new Electronic Travel Authorisation (ETA) scheme before they fly.
Source: Euronews