Russia claims shooting down Ukrainian drones in border regions
Russian officials have said they repelled multiple drone attacks in the border regions of Belgorod and Kursk early on Friday morning.
"Tonight, several Ukrainian drones were shot down by an air defense system near Kursk," Roman Starovoyt, the governor of Kursk, said on Telegram.
His counterpart in Belgorod, Vyacheslav Gladkov, said that the drones targeted him, and that the city was left without electricity due to continuous attacks.
According to Gladkov, strikes also hit the village of Novopetrovka, injuring two from a local school were hurt.
The Russian authorities previously claimed that the Ukrainian forces had carried out a series of attacks on Belgorod, leaving skin people injured.
Belgorod was the scene last week of a spectacular incursion by armed Ukrainian fighters, which raised questions about the solidity of the Russian border defense.
The Russian authorities said three attacks by Ukrainian terrorist groups targeting civilian infrastructure were repelled by the Russian soldiers.
The Kremlin denounced the lack of international condemnation in response to these attacks.
Russia's latest claims could not be independently verified.
Kyiv continues to thwart drones as attacks continue
Ukrainian air defenses shot down more than 30 Russian cruise missiles and drones in Moscow's sixth air attack in six days on Kyiv, local officials said on Friday.
"Tonight, the enemy used 15 cruise missiles and 18 Iranian Shahed drones – all of which were destroyed by our defenders", the Ukrainian army claimed in a statement issued via Facebook.
A 68-year-old man and an 11-year-old child were injured in the attack, with private houses, outbuildings and cars sustaining damage from falling debris, according to the Ukrainian Prosecutor General's Office.
Following a reported 17 drone and missile attacks on the Ukrainian capital in May, Russian forces hit Kyiv on Thursday, killing at least three people and wounding others.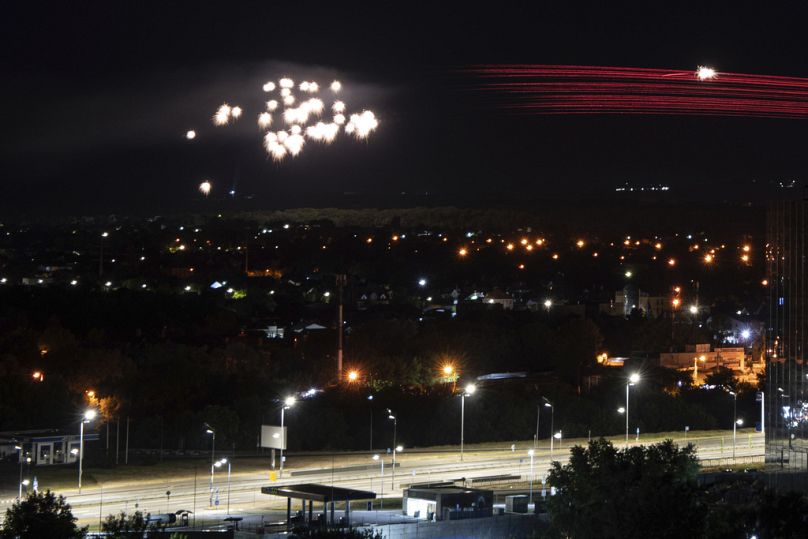 Pentagon buys Starlink satellites for Ukraine
The US Department of Defense has signed a contract with SpaceX to provide Ukraine with Starlink satellites for communication, the Pentagon announced on Thursday.
"We continue to work with a range of global partners to ensure Ukraine has the resilient satellite and communication capabilities they need," the statement said.
Starlink has already been used by the Ukrainian military to communicate on the battlefield, among other purposes.
SpaceX's CEO Elon Musk had previously claimed that Starlink's operations in Ukraine were as costly as €19 million per month. SpaceX had been relying on private donations and US foreign aid agency to operate in Ukraine.
The Pentagon contract will ensure Ukraine's access to Starlink, yet the terms were not disclosed "for operational security reasons"
Source: Euronews