With 5,000 miles of coastline, Türkiye is not short on beaches – and 519 of them have been awarded Blue Flags, the third highest in the world.
The country is lapped by the Black Sea to the north, the Mediterranean to the south, the Aegean to the west and boasts its own sea contained entirely within Turkish territory, the Sea of Marmara.
So with this wealth of azure riches, how do you choose where to lay your towel?
Something for everyone on the Turkish Riviera
The country's Mediterranean coast, also known as the Turkish Riviera – all 1,600 kilometres of it – is a safe bet for most of the year, given that its summer lasts nine months. Sunshine is guaranteed 300 days a year and you can swim in the sea even in November.
Attracting millions of visitors, here you will find a mix of all-inclusive resorts and five-star hotels, as well as smaller resorts that have retained their authentic charm such as Kaş.
The Riviera is also home to the Eastern Mediterranean's biggest beach, stretching 20 kilometres at Patara. It's more than just a blockbuster beach though, it's also a protected site thanks to being a nesting ground for Caretta sea turtles, and its historical significance as part of the Lycian Way.
Chic sunbathing spots for those craving glamour
The Aegean Coast is the chic choice. Its beaches are the place to see and be seen – or to charter a boat to whisk you off to a hidden cove to ensure no one can see you. It has a milder climate than the Mediterranean Coast and boasts pine woods and olive groves alongside its shimmering seas.
Bodrum is for the jet set, while Çeşme is famed for its proliferation of Blue Flag beaches as well as its nightlife and fashionable beach clubs, and Alaçatı is a good choice for those looking for a picturesque town within walking distance of their sun lounger.
Turgutreis and Göltürkbükü are the sophisticate's choice, with their bars and boutiques, while glamorous Bitez attracts sailing aficionados.
Uncovering Türkiye's secret beaches
Hidden gems include Butterfly Valley, where the beach is sheltered in a narrow canyon with 400m walls through which visitors can trek to find waterfalls, and remote Datça, so beautiful are its beaches, with Ovabükü generally agreed to be the jewel in its crown.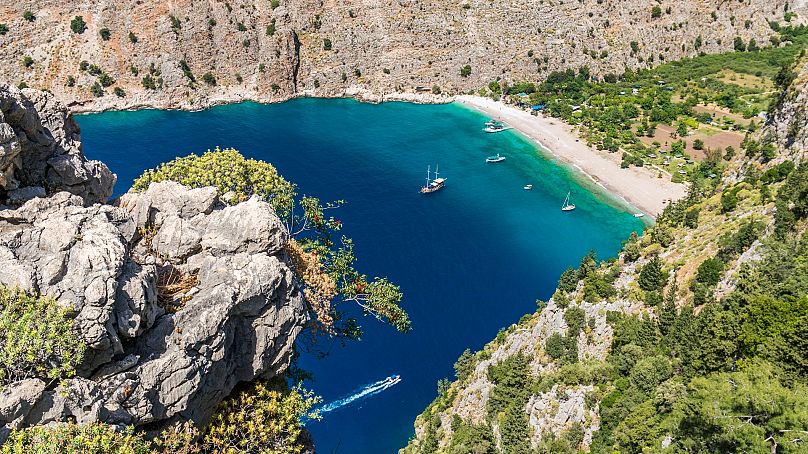 Those looking to go even farther off the beaten track should head to the Black Sea. Its summer season is shorter and temperatures lower, notably so in the water, so it's not the most popular choice for beach holidays – leaving it less developed and more tranquil, and perfect for those keen to combine sun, sea and sand with some culture.
Kilyos, which is popular with visitors from İstanbul, plays host to concerts. The port town of Samsun is known for its lively bar and restaurant scene, as well as the Black Sea's longest beach at Atakum. Gideros Cove in Cide, Kastamonu is surrounded by forests of pine, oak and beech and is perfect for a swim in the Black Sea's deep blue waters before refuelling with fresh seafood.
Beachy escapes for city lovers
In a similar vein, the Marmara Sea is ülkü for those who want to combine a beach holiday with a trip to İstanbul. Its resorts have long been popular with residents looking to escape the city for the weekend.
The Princes' Islands are an archipelago just a short ferry ride off the coast from İstanbul – the four larger islands of Büyükada (Big Island), Heybeliada (Saddlebag Island), Burgazada (Fortress Island) and Kınalıada (Henna Island), plus five smaller ones.
With the only modes of transport allowed on the islands a horse and cart or a bike, they are tranquil places to spend time, but still offer plenty to do. Yeşilköy Çiroz Beach, just along the coast from the capital, is a good option for daytripping families as it has a children's playground and a picnic area, while at Tarabya Beach you can swim in the heart of the city.
Source: Euronews