When the residents of the small Spanish town of Sant Joan, in the Balearic Islands, saw their new mayor was British they gasped: "Really?".
Followed by "That's ridiculous".
Richard Thompson, originally from West Sussex, has been in office for less than a week, after beating Spanish candidates in the regional elections held at the end of May.
The 52-year-old British teacher moved to Spain nine years ago when he fell in love and began living in the small town of 2,000 people after getting married.
Although he is not a Spanish citizen, Thompson managed to be a councillor for four years, and it was then he decided to run as a candidate for Més per Mallorca (More for Mallorca), a regionalist party, which has led him to become the first British mayor of the Balearic Islands.
"I think the initial shock was a very natural reaction. If I was in the UK and somebody from Spain suddenly announced that they wanted to be mayor I would also think: Really?", Thompson tells Euronews.
"But we've demonstrated to other villages in Majorca or in Spain that you don't have to be born in a place to be an integrated member of the community. It's a great example of inclusion", he adds.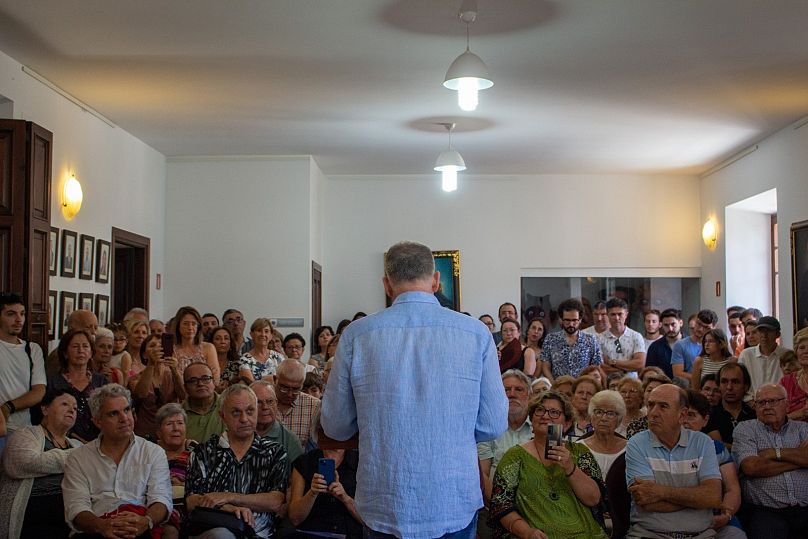 It's past 3.30pm when Euronews interviews Thompson and he says that, although everyone has gone home because the working day is over, he is still in the office.
"There's a lot to do and to learn," he adds. The Briton is not giving up and will keep trying to prove to some sceptical locals that he can be a good mayor for Sant Joan.
Meanwhile, in the streets, several people share their surprise.
"I believe what shocked them the most was to see an Englishman running as candidate for a regionalist party," says Toni Gallá, 53, owner of a lighting shop in the village.
"We're talking about closed villages, a place that belongs to what we would call 'deep Mallorca', it's logical to see shock. As a mayor, things are going to be more complicated for him than for any native in the village," he adds.
Gallá says that although Thompson was not popular, he surrounded himself with a team of natives that were very well known in the village, so he fully supports his mandate.
"I understand that in four or five months' time we will be able to judge his management, when he has shown us how he governs, but not now."
Antonio Karmany, 23, a native of Sant Joan, agrees. "It's true that many people think it's ridiculous to have a British mayor, but personally it hasn't shocked me.
"Thompson has been here for many years and has made the town grow culturally. He has taught many English classes to locals," he adds.
From his office, Thompson says he is honoured, and his biggest challenge now is to improve his Catalan, as he has to manage and lead in the language.
"I have spent the last few years trying to learn the language to be respectful," says the mayor.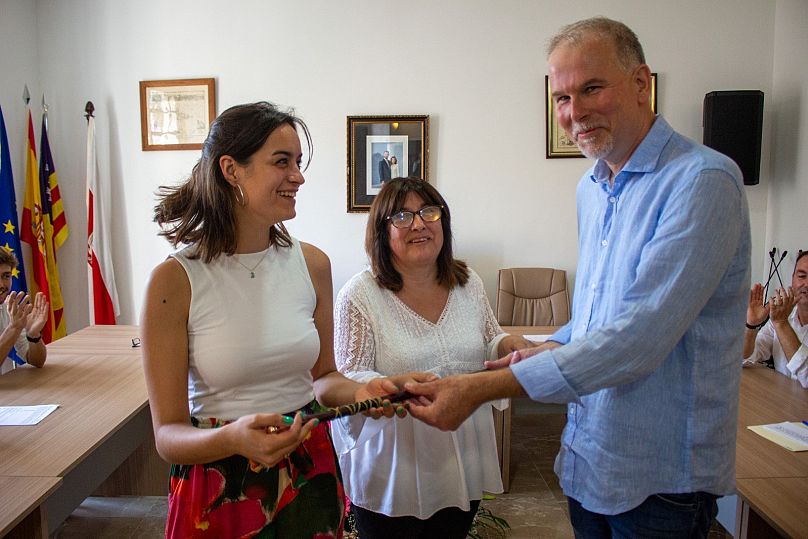 In the small village there are up to twenty different nationalities and during the campaign he felt he could do something for them.
"I was speaking to some of the people from other countries and they were saying they wanted to feel more included. As someone who was born elsewhere, I can understand how they feel," says Thompson.
Regarding the astonishment caused when he was announced as the candidate of a regionalist party, the mayor says he has lived in Scotland for four years, so "I've sort of been aware of the issues".
However, he adds that this was not what attracted him most to Més per Mallorca.
"I'm an environmentalist, so this is very important to me. I think it was the ecological aspects of the party and the fact that it's a left wing party and, although I'm fairly centrist, if I'm pushed I'd be more left wing. This is my political philosophy".
He attributes his victory to the team he managed to put together and who helped him during the campaign.
"We got a team working behind the scenes. And so we ended up with about 30 people involved with the campaign. The other parties didn't have so many people willing to help", says the mayor.
When Sant Joaners, as the people living in the village are called, are asked what was the key to Thompson's success, they agree it was due to teamwork.
"He had been planning the strategy for a long time and the team was able to sell it to the people. The other candidates were new except for the previous mayor, who repeated as candidate, but the inhabitants decided to vote against him to punish his administration," Gallá points out.
This resident says in the last 30 years the town has been repeating candidates, so the management has been "more of the same". However, he believes that Thompson, with his British vision, will bring freshness and a change in the way of doing things.
Source: Euronews