The war in Ukraine and the decision to allow players from Russia and Belarus cast a shadow over this year's French Open – putting some of the world's best players in a difficult position. 
Belarusian tennis star Aryna Sabalenka caused a stir after defeating her Ukrainian opponent Elina when she criticised the actions of her country's authoritarian president, explicitly saying "I don't support the war".
Though Belarus is not directly involved in the fighting, President Alexander Lukashenko has provided key support to Russia, allowing it to attack Ukraine from its territory for instance. This has caused tensions between the two countries to spike. 
Competitors from Ukraine had decided not to shake the hands of opponents from Russia and Belarus during the tournament. 
Sabalenka apparently forgot this at the end of her match with Svitolina, approaching her opponent out of what she called "instinct".
Svitolina said her "initial reaction … was like: what are you doing?"
The Ukrainian player declined to engage, which was met with boos from the crowd – some of whom may not have known the full background and simply thought she was breaching tennis etiquette. 
Asked whether Sabalenka might have inflamed the situation by waiting at the net, Svitolina replied: "Yeah, I think so, unfortunately."
Belarusian star Sabalenka went on to crash out of the French Open in the semifinal, after which she answered questions from the press. In a charged encounter, a Ukrainian journalist asked her to reflect on her statements about Lukashenko. "Do you feel okay?" she was asked. "Do you feel safe with that statement? Are you fine with it? What are your thoughts?"
She was visibly not happy with the questions, doubling down on remarks made earlier in the week rejecting calls for her to articulate her opinion on the war in detail.
"I don't want to talk about politics today," she replied. "I made all my statements."
"Let's just talk about tennis. Give me some rest, please, from politics."
With the Wimbledon tournament around the corner, the saga of Sabalenka's statements at the French Open and the reaction to her conduct on the court raises a crucial question: How can professional tennis handle players from Ukraine, Belarus and Russia at a time when the conflict is practically inescapable?
National pride and national shame
Having excluded Russian and Belarusian players last year, Wimbledon is allowing them to compete in 2023 – albeit not under their national flags.
"Our current intention is to accept entries from Russian and Belarusian players subject to them competing as 'neutral' athletes and complying with appropriate conditions," the British championship's management wrote in a statement in March.
"These will prohibit expressions of support for Russia's invasion of Ukraine in various forms and prohibit entry by players receiving funding from the Russian and/or Belarusian states (including sponsorship from companies operated or controlled by the states) in relation to their participation in The Championships."
This will not entirely solve problems presented by interactions like Sabalenka and Svitolina's – not just because players from the countries concerned may end up on the same court in the world's most-watched tennis tournament, but because the crowd's reaction to their presence cannot be controlled. 
That's especially true given many Wimbledon tickets are awarded by ballot, meaning the makeup of the crowd can be unpredictable. And by extension, so can the treatment players receive when they appear.
This sorun exists even aside from the war in Ukraine.
Cost of competing
World-class tennis has acknowledged mental health problems such difficulties can have for some time, while top players are being increasingly open about the impact of the pressures they face.
Last month, 21-year-old American player Amanda Anisimova announced she would be backing away from the game to safeguard her own well-being.
"I've really been struggling with my mental health and burnout since the summer of 2022," she said on Instagram. "It's become unbearable being at tennis tournaments. At this point, my priority is my mental well-being and taking a break for some time. I've worked as hard as I could to push through it."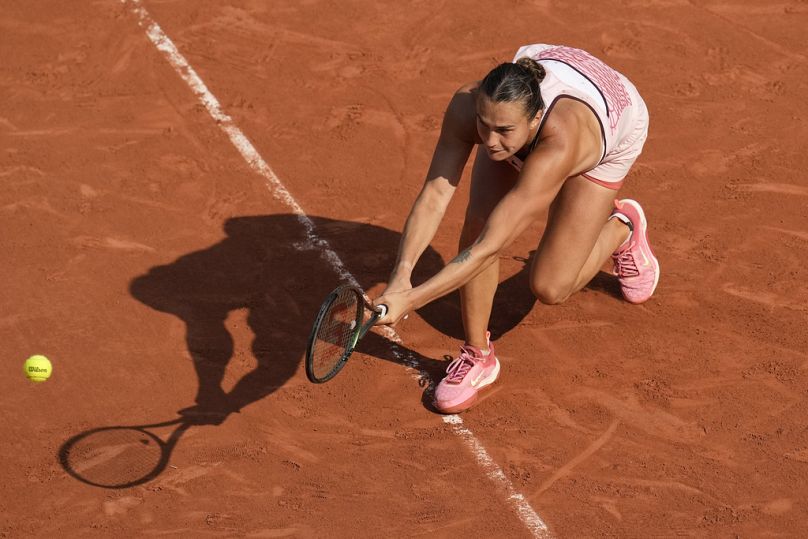 The pressure of playing at the highest level is intense in any sport, but tennis's culture is particularly tough.
Many players, particularly in the women's game, are young, sometimes as young as their mid-teens. Singles players compete on courts without the benefit of teammates to protect and comfort them when crowds or opposing players treat them harshly.
And that's before considering the pressure from the media – as Sabalenka found out at the French Open.
Unavoidable questions
Between the media, decisions of tennis authorities and intensity of the game itself, players in countries involved in the war find themselves in an extremely difficult situation.
In her various press appearances, Sabalenka's publicly expressed view was that politics and the game should be separated, though some question whether this distinction is possible. 
At a press conference last Tuesday, she said she had been avoiding press engagements because of the war's overbearing presence.
"I felt really bad not coming" to do interviews, she said. "All those bad feelings were in my head, I couldn't fall asleep."
Sabalenka also said she didn't regret holding back because she "felt really disrespected" and as if the occasion "became a political TV show". 
However, she did say she felt safe on Tuesday, "probably because I had a few days to switch off" and "nobody's putting words in my mouth."
Others take another view.
Speaking to Euronews, Ukranian journalist Daria Mescheriakova, who questioned Sabalenka in public for ua.tribuna.com, said tennis authorities hadn't provided her country's players with any support. 
"From what I have seen we are just a sorun that has to stop talking. Tennis organisations don't do anything to support Ukrainians," she said.
Mescheriakova criticised the decision to allow Sabalenka to skip some French Open news conferences after she said she "did not feel safe" due to questioning about the war and that she wanted to protect her "mental health and well-being". 
"I don't know why she was allowed to skip the press conference," the Ukrainian journalist said. "I asked her two upfront questions, I didn't threaten her or make it a political show as she's trying to present it."
"People should understand the tennis world that there is no such thing that sports are not political, you represent your country, this is already politics. In Russia and Belarus it's always connected, they shouldn't forget about it."
Source: Euronews