NATO Secretary General Jens Stoltenberg said the support NATO allies have been giving Ukraine for months is making a difference on the battlefield at the beginning of a two-day NATO Defence Ministers conference in Brussels on Thursday.
Stoltenberg also praised Ukrainian soldiers for their bravery and skills and said defending troops were already making gains and liberating occupied land in its widely-anticipated counteroffensive.
The aim of the defence meeting is to discuss future relations with Ukraine as Russia's war on the country thwarts its hopes of joining the world's biggest security alliance soon.
On the sidelines of the event, ministers are also due to participate in a separate US-led Ukraine Contact Group meeting – a forum Ukraine's supporters routinely join to try to drum up weapons and ammunition to help Kyiv fight the Russian invasion.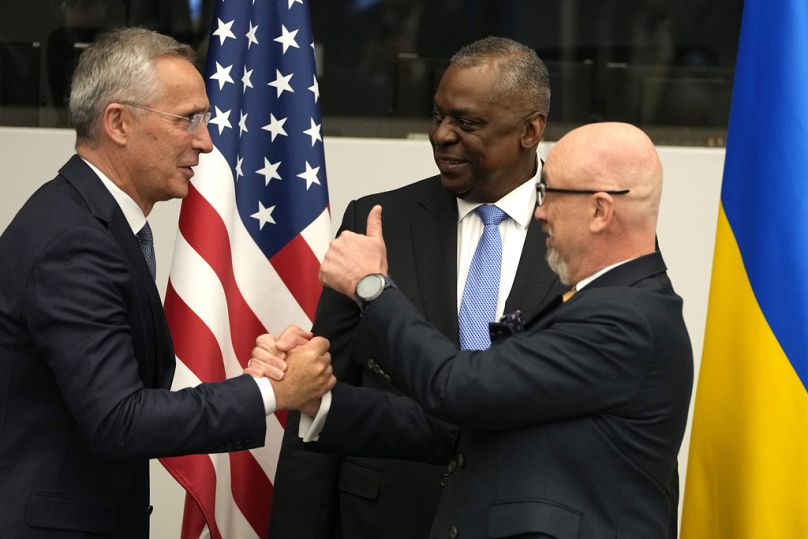 The NATO meeting comes less than a month before US President Joe Biden and his counterparts gather for a summit in Lithuania in a symbolic show of support for Ukraine. They are expected to underscore their determination to act should Russian President Vladimir Putin try to expand the war westward.
NATO agreed in 2008 that Ukraine would join the organisation one day but did not set a date for it to start membership talks.
Ukraine applied for "accelerated accession" to NATO on 30 September as the war raged on. With its Crimean Peninsula annexed and Russian troops and pro-Moscow separatists holding parts of the south and east, it's unclear what Ukraine's borders would look like.
NATO Secretary-General Jens Stoltenberg has said there is no consensus for the country to join while it is at war with Russia.
We agree that the most urgent task now is to ensure that Ukraine prevails as a sovereign independent nation because unless Ukraine prevails and can continue as a democratic state in Europe, there is no membership issue to be discussed at all.
Jens Stoltenberg
NATO Secretary-General
Stoltenberg said that he expects the 31-nation alliance to "agree [to] a multi-year program where we help to move Ukraine to transition from old standards, equipment, procedures, doctrines to NATO standards and become fully interoperable with NATO."
NATO is also upgrading its relations with Ukraine. The NATO-Ukraine Commission, which will meet later Thursday, is set to be upgraded to a NATO-Ukraine Council, giving the country an equal seat at the table with the 31 allies.
NATO has no official presence in Ukraine. The organisation only provides nonlethal support to Kyiv, although allies individually and in groups do supply weapons and ammunition.
Source: Euronews