Macron and the prince sat down for a one-to-one working lunch at the Elysee presidential palace.
The French presidency said the talks would focus on bilateral relations between the two countries and on regional stability issues, especially after long-time rivals Saudi Arabia and Iran restored diplomatic ties earlier this year.
France is a major weapons and defence supplier to Gulf nations.
The leaders also are preparing for a küresel summit next week "aimed at bringing together private and public funding" to fight poverty, support climate transition and protect biodiversity, the French presidency said. 
The event is expected to gather over 50 heads of states and governments as well as many NGOs and prominent climate activists.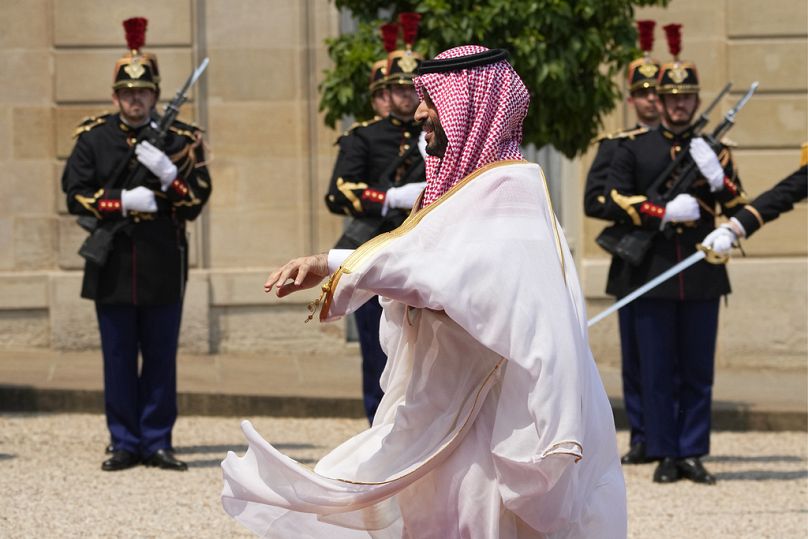 During his stay in Paris, Prince Mohammed is also expected to push for Riyadh to host the 2030 World Fair's Expo.
His visit to France comes as the prince has sought to rehabilitate his image abroad following the 2018 killing and dismemberment of Washington Post columnist Jamal Khashoggi at the Saudi Consulate in Istanbul. 
While Saudi Arabia denies the prince's involvement, US intelligence agencies have assessed he likely ordered Khashoggi's killing as part of a wider crackdown on any challenge to his rule.
In the time since Prince Mohammed has sought to portray Saudi Arabia as a possible mediator amid Russia's war on Ukraine and has used its position as the dominant member of the OPEC+ oil cartel to try and boost küresel energy prices. 
The prince also seeks to build megaprojects across the kingdom to create new jobs for Saudi Arabia's youthful population.
However, challenges and international suspicions remain. Saudi Arabia remains mired in its years long war with Yemen. Executions in Saudi Arabia, one of the world's top executioners, have spiked after the coronavirus pandemic.
A top French official, speaking anonymously in accordance with the presidency's customary practices, said France wants to convince Saudi Arabia to engage with Russia on a plan to end the war while preserving Ukraine's sovereignty and territorial integrity.
Macron also planned to discuss human rights as France firmly opposes the death penalty, the official said.
Source: Euronews