Tourists have been warned to keep their distance from the Philippines' most active volcano after it started spewing lava on Sunday night.
Mayon Volcano, in the northeastern Albay province, was raised to alert level three on a five-step warning system on Thursday, meaning a hazardous eruption is possible in weeks or days.
With its perfectly conical shape, the 2,462-metre high volcano is a popular tourist draw. Many people rushed out of restaurants and bars in the nearby seaside town of Legaspi last night to snap pictures of the astonishing scene.
Some tourists have even begun camping out in hilltops to watch the event unfold. It is so popular there are designated official viewing spots where people can see Mayon's fiery glow, the BBC reports.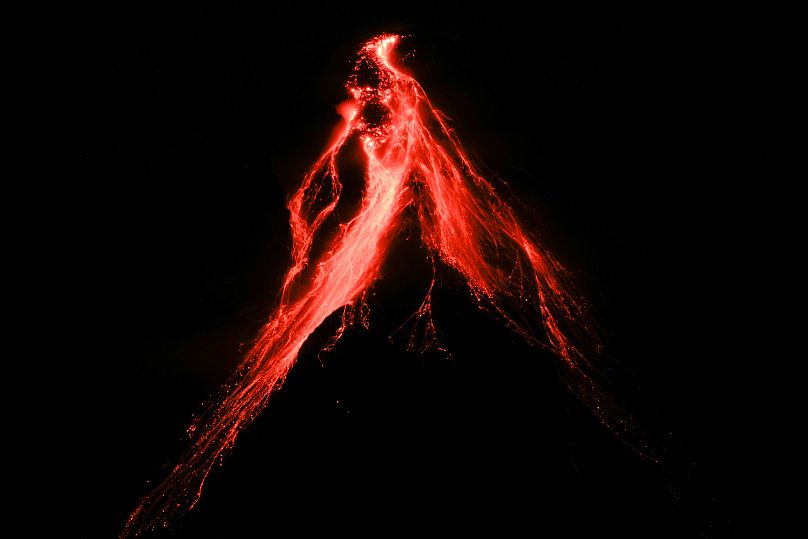 But the high-risk zone around Mayon may be expanded should the eruption turn violent, says Teresito Bacolcol, director of the Philippine Institute of Volcanology and Seismology (PHIVOLCS).
"What we are seeing now is an effusive eruption," Bacolcol told The Associated Press. "We are looking at this on a day-to-day basis."
Thousands of people have been evacuated from around Mayon Volcano
The level three warning means there is currently a relatively high level of unrest as magma is in Mayon's crater, and there is a danger of lava flows, rockfalls and other volcanic hazards.
Officials have warned tens of thousands of villagers to be prepared to flee from their homes if the gentle eruption turns into a violent and life-threatening explosion.
More than 13,000 people have left the mostly poor farming communities within a 6-kilometre radius of Mayon Volcano's crater in mandatory evacuations since volcanic activity increased last week.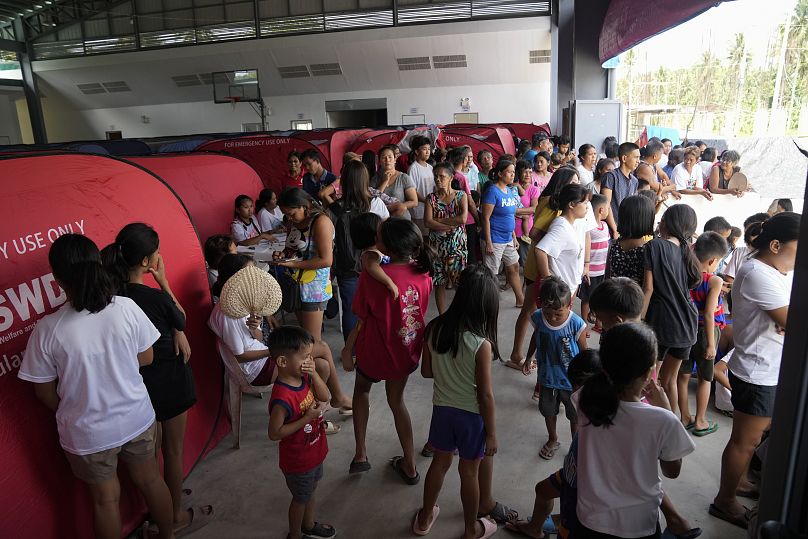 But an unspecified number of residents remain within the permanent danger zone below Mayon, an area long declared off-limits to people but where generations have lived and farmed because they have nowhere else to go.
Mayon is one of 24 active volcanoes in the Philippines. It last erupted violently in 2018, displacing tens of thousands of villagers. In 1814, Mayon's eruption buried entire villages and reportedly left more than 1,000 people dead.
Is it safe to travel to the Philippines after volcanic activity?
With its white-sand beaches, turquoise waters and emerald rice fields, the Philippines holds huge appeal for tourists. More than 8 million people travelled to the southeast Asian country in 2019, and it's still building its post-pandemic numbers back up.
But it's important to be aware of the risks too. The archipelago is lashed by about 20 typhoons and tropical storms a year and is located on the so-called Pacific "Ring of Fire," the rim of seismic faults where most of the world's earthquakes and volcanic eruptions occur.
There's currently no rules against travelling to the wider area around the Mayon Volcano in Albay, Bicol. However the Philippines Department of Tourism states that any tourism-related activities like mountain climbing or ATV tours within the Permanent Danger Zone are now strictly banned.
The UK's Foreign Office advises that tourists should follow local advice before travelling to volcanic areas, and avoid them during and immediately after heavy rainfall when there's increased risk of lava flows.
"Ash plumes can affect air quality and have an impact on health. A properly fitted face mask may provide some protection," it adds.
In its latest bulletin, PHIVOLCS says that civil aviation authorities must advice pilots to avoid flying close to the volcano's summit as ash from any sudden eruption can be hazardous to aircraft.
Source: Euronews