Experts say in some locations off the UK and Ireland coastlines, sea temperatures are around four or five degrees Celsius warmer than they would expect for this time of year, surpassing records that stretch decades.
NOAA's Marine Heatwave Watch categorised the event as a Category 4 marine heatwave.
Bangor University physical oceanographer Thomas Rippeth said he has never known such temperatures at this time of year.
"The ocean is not like the atmosphere. It doesn't heat up and cool down quickly. It takes a long time to warm up and it takes a long time to cool down," he said.
"So, you tend to see over a whole year the sea temperatures around the UK, it might move around by about 10 or 12 degrees between the middle of winter and the middle of summer.
"Seeing these four or five degree differences from the norm are obviously quite big temperature differences."
Rippeth said it was down to a multitude of factors – climate change, but also less Saharan dust and Arctic ice reflecting the sun's warming rays.
"What the dust does is it basically reflects a proportion of the sun's rays back to space," he explained.
So, they're not available to warm the ocean. But the lack of that dust means that the sun's rays are a bit more intense, arriving on the sea surface and warming it up."
Experts said the marine heatwave could also be damaging to wildlife – warmer water, for instance, carries less oxygen so will deliver less oxygen down to marine life in the depths.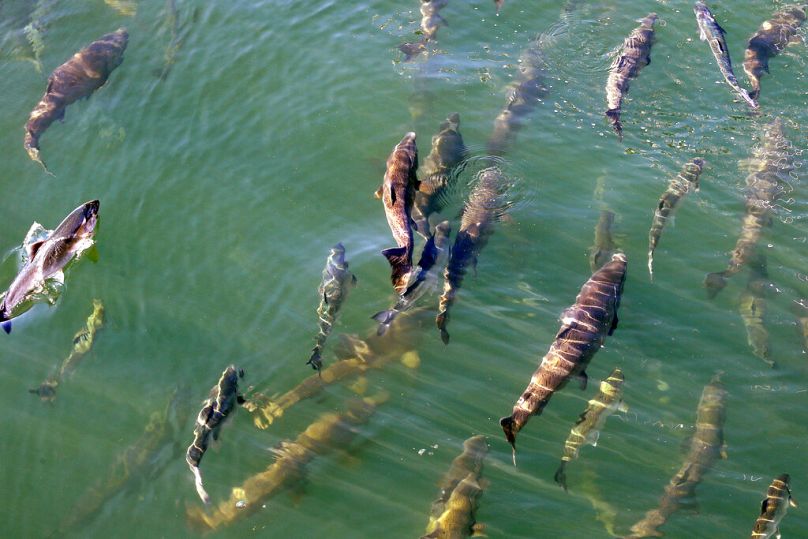 Elsewhere, phytoplankton, which plays an important role in the marine food chain, could be deprived of vital nutrients.
Last week, the UK's Met Office said küresel sea surface temperatures for both April and May were the highest on record for those calendar months in a series stretching back to 1850.
The picture was even more stark in the North Atlantic, which saw a record-breaking temperature rise in May 2023.
The month was the warmest May on record since 1850, with temperatures about 1.25 degrees Celsius above average.
The Met Office said with the expected continued warming of the eastern tropical Pacific because of the emerging El Niño, it was likely küresel sea surface temperatures could challenge further records this year.
Source: Euronews