Week after week, the Serbian capital is flooded with demonstrators. Among the sea of people you see homemade signs and little buttons on clothing depicting vultures and hyenas.
Since early May, tens of thousands of people are hitting the streets of Belgrade protesting against the government and President Alexandar Vučić. These are the biggest public demonstrations in the country since the fall of Slobodan Milošević.
The protests are against an atmosphere of violence and fear, against manipulated media, against corruption. But why is the symbol of the uprising animal buttons on T-shirts and jackets? In our latest episode, Euronews Witness went to Belgrade to find out.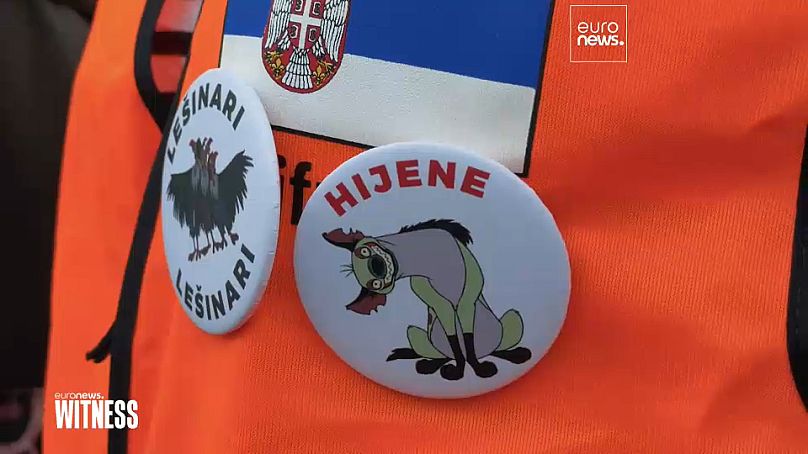 Anger on the streets
The weekly mass protests were triggered by a school-shooting in Belgrade and, the day after, a second shooting in a village. 18 people died. But by now the anger is directed against the ruling power. Tara, a student, prepares her protest placard: "We want the rule of the law instead of the rule of one person."
President Vučić accuses the opposition to instrumentalize the mourning and called protesters "vultures" and "hyenas". Since then, they wear animal buttons. "We are demonstrating, because of the corruption, the criminality and the malfunction of institutions in our country", one of the protesters tells Euronews.
People demand the president to step down and an investigation into alleged links between politics and organised crime. Vučić suggested snap elections, but opposition parties are against this idea. 
One of the leading opposition politicians, Srđan Milivojević, member of Parliament for the Democratic Party, explains why: 
"We have numerous proofs that the highest State authorities are linked to organized crime. Criminal groups, since 2013, show up in elections (around polling stations). They try to frighten local people and they try to bribe opponents of the Serbian Progressive Party. These are not conditions to enable free and fair democratic elections. The only solution is a technical transition government which would prepare fair conditions for free elections. It's important that the EU does not regard Vučić any longer as a stability factor."
Vučić support
The chaos of the demonstrations is aggravated by pro-government supporters who can be seen being bussed in from regions all over Serbia and from neighbouring countries. There are reports that the ruling party funds these counterdemonstrations. However, some supporters we talked to denied these claims. 
"I paid for this one myself. €80 it cost" said one supporter holding a Vučić banner. "I love Vučić and I will give everything for him." he added. 
In the high rise appartments of the Fontana-neighborhood in New-Belgrade, you can find every political faction, including Vučić voters. Marijana is member of the ruling Progressive Party. She moved from a rural area to Belgrade, studied economics and works in a business-tax office. According to her, since Vučić is in power, the country changed for the better.
"Many young people have found a workplace, they build a lot of factories, people from villages too got (work) opportunities and they got jobs as well. In the past, there were people without social protection – but now this has changed." Marijana says.
Freedom of press under attack
Officially, Serbia still wants to become a member of the EU but negotiations are hitting some roadblocks. The European Commission has criticsed the current Serbian government's drift towards Russia, smear campaigns against political opponents and attacks on independent journalism.
"Some 90% of the media in Serbia are under the direct control of the government of (president) Alexandar Vučić." says Željko Bodrožić, President, Independent Journalist's Association of Serbia IJAS
Some of the world's best investigative journalists are work at KRIK, a Serbian independent online news publication. The team, led by editor in chief Stevan Dojčinović, handles in-depth research of corruption and organised crime cases – and has been awarded prizes in journalism in Europe and overseas.
However, according to Dojčinović, its reporting is severly hampered by pro-government media. "Whenever we publish some story on corruption or organised crime then suddenly all media controlled by the government, start attacking me…and then I will appear on the front pages…they say that I am member of mafia, who attack the president. Here they call me sado-masochist…they even call me terrorist." Dojčinović says.
Source: Euronews