Next year, the Estonian city of Tartu is set to lure visitors away from the much more popular coastal capital of Tallinn.
The city in the south east of the Baltic state has been awarded the accolade of European Capital of Culture for 2024.
Tartu has plenty to offer curious travellers, including the Estonian National Museum and the ruined hilltop Tartu Cathedral.
In 2024, the city will also have a lively programme of cultural and sustainable events to celebrate its year in the spotlight.
Tartu named European Capital of Culture for 2024
Along with Bad Ischl in Austria and Bodø in Norway, Tartu has been declared a European Capital of Culture in 2024, an award that will catapult the lesser-trod city into the limelight.
"While in 2011, the title was bestowed on Tallinn, now it is time for Tartu to shine in the spotlight for a whole year," says Tibor Navracsics, EU Commissioner for Education, Culture, Youth and Sport.
"The title provides an excellent opportunity for reviving cultural life in the city and taking culture and heritage right to its residents' doorstep."
The accolade comes with significant benefits including additional funding, support for local projects and drawing an increased number of tourists.
What to do in Tartu: Mass kissing and ancient pagan rituals
Estonia's second city has a jam-packed programme of events to celebrate its year as European Capital of Culture.
The most intriguing is, without a doubt, mass kissing in the town square. The event is inspired by the romantic Kissing Students fountain in the centre of the public place.
The sculpture represents a man and a woman in an eternal embrace beneath an umbrella and was erected in 1998.
The date of the event has not yet been announced, but will see "unprecedented simultaneous kissing action" to the soundtrack of Eurovision songs as a celebration of "openness, humanity and respect," according to organisers.
A First Kiss educational programme will also be offered in school to raise awareness about sexual health.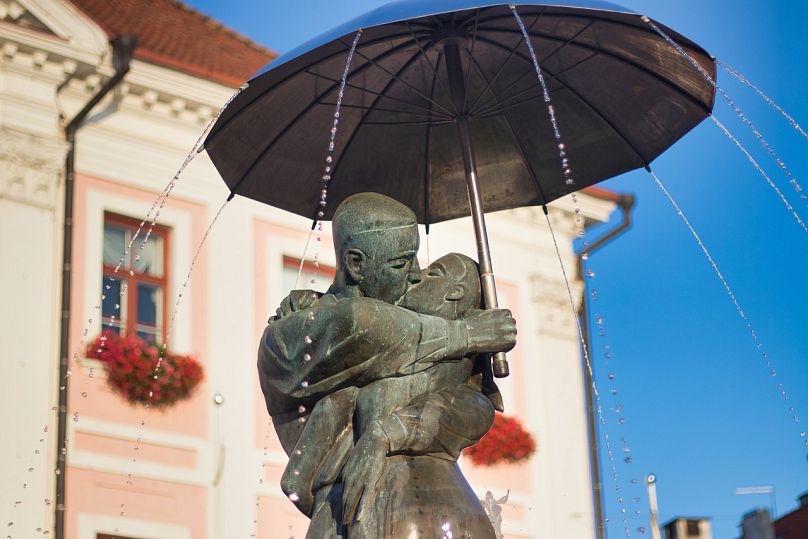 Another event that is mühlet to pique interest is the Pagan Folklore Night. For one evening in August, the Kubija Song Şenlik Grounds will be given over to a mystical world of ancient pagan traditions.
A dance floor will be lit with symbolic patterns of ancestral beliefs, ghosts and elves will flit between the trees and the sound of bagpipes and kannels, an Estonian string instrument, will emanate from the woods.
"As the darkness deepens, you can feel your ancestors' universe coming to life around you," the organisers say.
There's plenty more on the annual programme, including arka exhibitions on surrealism, educational sessions on growing your own food, a sustainable fashion show and community dinner parties.
What to see in Tartu: 1,000 terracotta statues and soup town
There are myriad permanent attractions in Estonia's second city, too. If you're in the town square for the much awaited kiss-a-thon, take a moment to appreciate the pale pink Town Hall.
The neoclassical building from 1789 houses a carillon whose bells still chime regularly throughout the day.
Head on to St John's church with a staggering 1,000 terracotta statues on the exterior dating from nearly 700 years ago.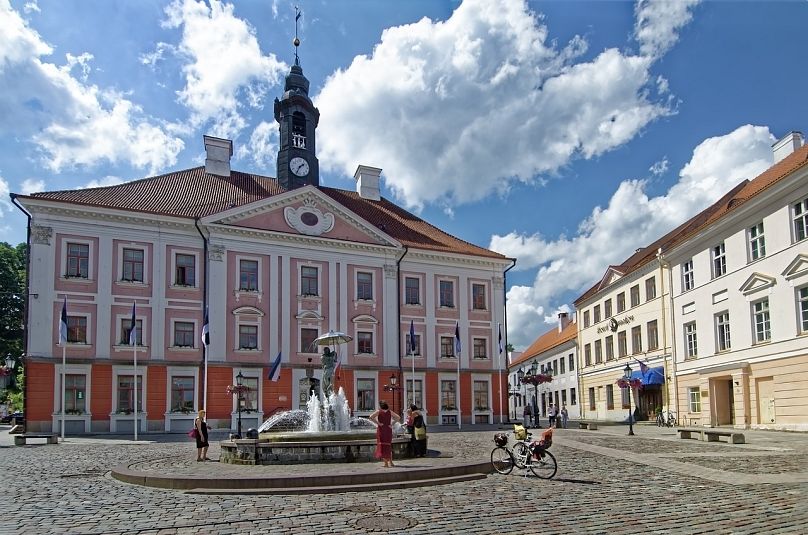 Climb the robust clock tower for a viewing platform overlooking the old town.
If you're a fan of quirky street names, look no further than Soup Town, or Supilinn in Estonian. The area earnt its moniker from its food stuff-named roads like Pea Street and Potato street.
Aside from the unusual names, the neighbourhood is an opportunity to see one of the last surviving 19th century slums in Europe.
Built around a brewery on the banks of the Emajõgi river, the district is a maze of wooden houses and small gardens albeit now rather more gentrified than when first built. 
How to get to Tartu by plane and train
To reach Tartu by plane, travellers should fly to Tallinn or Riga and catch a bus to Tartu. 
There are also train links with Tallinn. You can reach Tallinn by train from Riga or by  ferry from Stockholm and Helsinki.
Source: Euronews