Zero-emissions cruise ships could carry travellers across the seas in just a few years, according to a leading Norwegian company.
Ahead of plans to decarbonise its entire fleet, Hurtigruten has just announced that its first net zero cruise ship will be ready by 2030.
The cruise line's 'Sea Zero' project was announced last year, but technical breakthroughs mean that the giant electric vessels are one step closer to being a reality.
"Following a rigorous feasibility study, we have pinpointed the most promising technologies for our groundbreaking future cruise ships," explains Hedda Felin, the CEO of Hurtigruten Norway.
"We are committed to delivering a ship that surpasses all others in terms of energy efficiency and sustainability within just a few years."
Guilt-free cruising – from an emissions point of view, at least – has been a long-held dream of the cruise industry, which recently set a net zero by 2050 target.
How will the zero-emissions cruise ship work?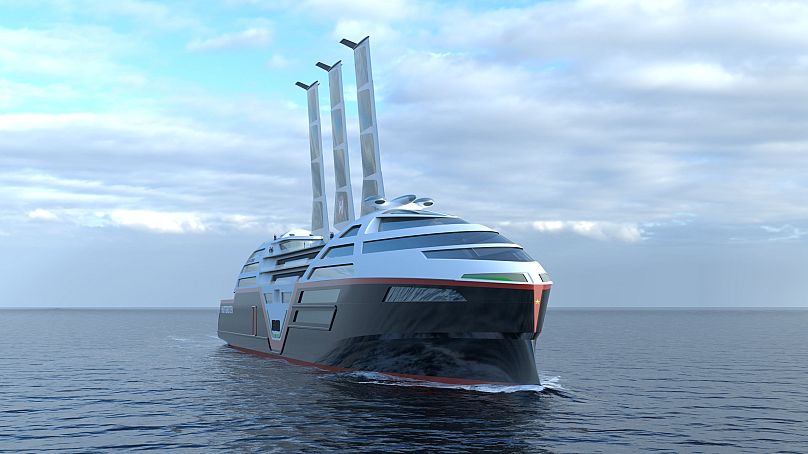 Under the early concept plans released yesterday (7 June), Hurtigruten's new line will be fully electric and equipped with batteries charged by renewable energy in port.
"Combining 60-megawatt hour battery solutions with wind technology, the vessel is expected to feature numerous firsts and improved solutions that do not exist on cruise ships today," it says.
These include 50-metre retractable sails with solar panels and an AI-operated bridge (where the captain and crew steer the ship). Battery levels will be displayed on the ship's external sides.
After announcing the 'Sea Zero' project in March 2022, Felin said the line was faced with the challenge of not knowing which technologies would be available to use in 2030.
"Our task was to pave the way for new innovations and enhance existing ones to align with our sustainability objectives," she says.
"While some of these technologies have reached a relatively advanced stage, they still necessitate dedicated research and development to ensure their successful implementation within the maritime context."
Over the next two years, the proposed green tech will be tried and tested to finesse the final ship design.
How will passengers be part of the net-zero journey?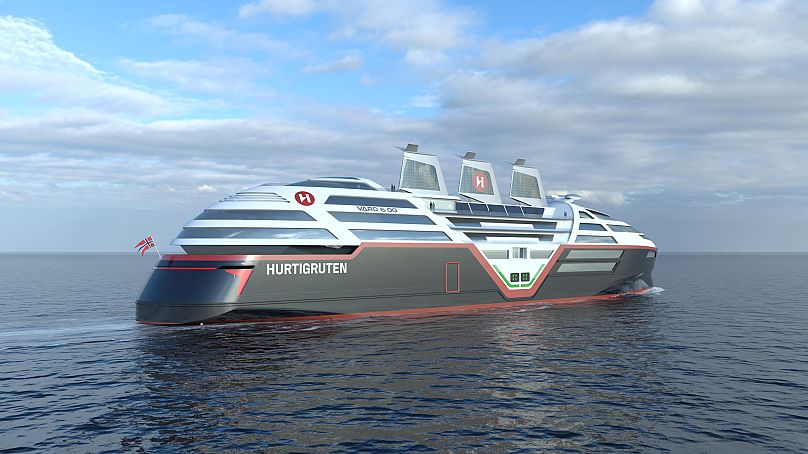 The Sea Zero concept isn't just about phasing out polluting engine fuel.
Hurtigruten says that guests will play a key role in minimising energy consumption through an interactive mobile app. This will enable them to operate "ultra-modern cabin ventilation", as well as measure their own water and energy consumption throughout their trip.
"Developing new technologies for onboard hotel operations, which can consume up to 50 per cent of the ship's total energy use, is crucial to the project's success," it adds. The goal is a 50 per cent energy reduction compared to Hurtigruten Norway's current ships.
The fleet is already getting greener at a rate of knots when compared to some other companies.
Two of Hurtigruten's seven ships have been upgraded to battery-hybrid-powered vessels, with a third to be upgraded this autumn. Its other five vessels are being outfitted with various technologies it claims will cut CO2 emissions by 25 per cent and nitrogen oxides by 80 per cent.
Though the cruise industry is still beset by other environmental and social challenges, the company paints an appealing picture of future travel around Norway.
New design features include "enlarged surface areas with dedicated windows [which] will allow for unparalleled views of what is often described as 'the world's most beautiful coastline.'"
Source: Euronews