Rescue teams have been working round the clock in Kherson and the surrounding districts searching for survivors stranded by the flooding. 
Teams used small boats and amphibious vehicles to help residents, some of whom had to flee with little more than their passports.
The Dnipro River that flows through Kherson has risen by more than five metres since the Kakhovka dam upstream was destroyed early on Tuesday, and officials expected it to keep rising throughout Wednesday.
"We don't have a house anymore. You can't even see the roof," said Dmytro Melnikov, 46, who escaped from his flooded home with his five children.
Some locals had to take their lives into their own hands by swimming through the water, and one man paddled to safety on an inflatable mattress.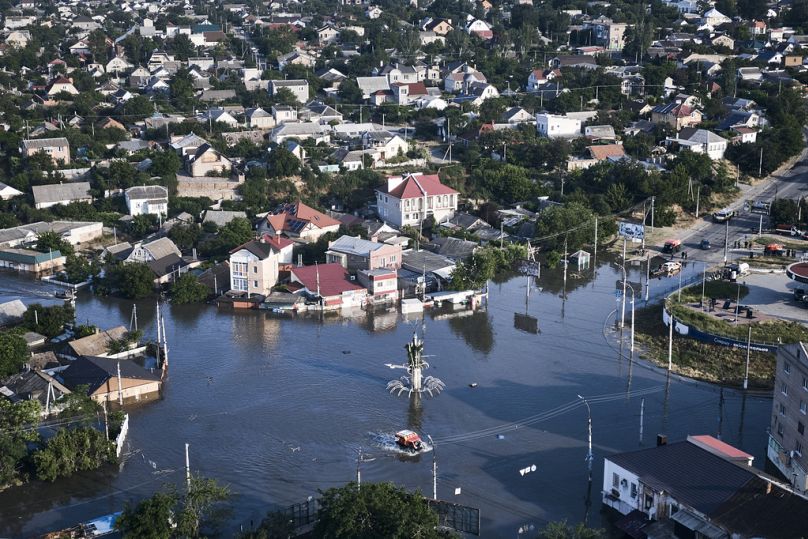 With humanitarian and ecological disasters still unfolding, it's already clear that tens of thousands of people have been deprived of drinking water, many are homeless, crops are ruined, land mines have been displaced, and the stage is set for long-term electricity shortages.
The first report of casualties from the disaster emerged, with a mayor reporting three dead. At least 4,000 people have been evacuated from both the Russian and Ukrainian-controlled sides of the river, officials said, with the true scale of the disaster yet to emerge in an affected area that was home to more than 60,000 people. Russia-appointed authorities in the occupied parts of the Kherson region reported 15,000 flooded homes.
The EU says it is responding, channelling aid via its Civil Protection Mechanism, with first offers from Germany, Austria and Lithuania. The help includes water filters, generators and mud water pumps.
Russia says it's deploying rescuers and aid equipment to the areas within the Kherson region that it controls.
Both Moscow and Kyiv are blaming each other for the dam collapse.
Source: Euronews