Rather than doing the usual fly and flop holiday this year, why not try an eco-friendly alternative?
Some of Europe's best beaches are easily accessible by train, making for a more sustainable and less stressful way to travel this summer.
Italy, France, Spain and the UK all have coastlines on a rail network.
Here are our top picks for golden sands, fresh seafood and headland walks.
5. Folkestone, England, for quirky arka and beachside movies
Summer is the time to visit England's creative port town of Folkestone. Lying between two cliffs on the southeast Kent coast, this vibrant seaside town is a hub of arts and culture.
After exploring the Creative Quarter's quirky shops, wander down to the sheltered Sunny Sands beach. Thirsty? Head to The Pilot Beach Bar, where you can lounge on deckchairs and old waltzer cars with a craft beer in hand.
Come evening, Folkestone Harbour Arm is the place to be for street food, deckchairs and free open-air movies and major sports games playing on the big screen. Watch out for one-of-a-kind events like the annual Kate Bush Day.
How to get to Folkestone by train:
Folkestone is one hour from London St Pancras station by train. The beach is a 25-minute walk or short taxi ride from Folkestone Central station.
4. Rimini, Italy, for beach bars and great pasta
Rimini beach stretches 15 kilometres down Italy's Adriatic coastline and is the perfect choice if you want a holiday with all services on hand.
The strip of sand is divided into a succession of beach bars and restaurants where you can rent sun loungers and umbrellas for the day or for weeks at a time.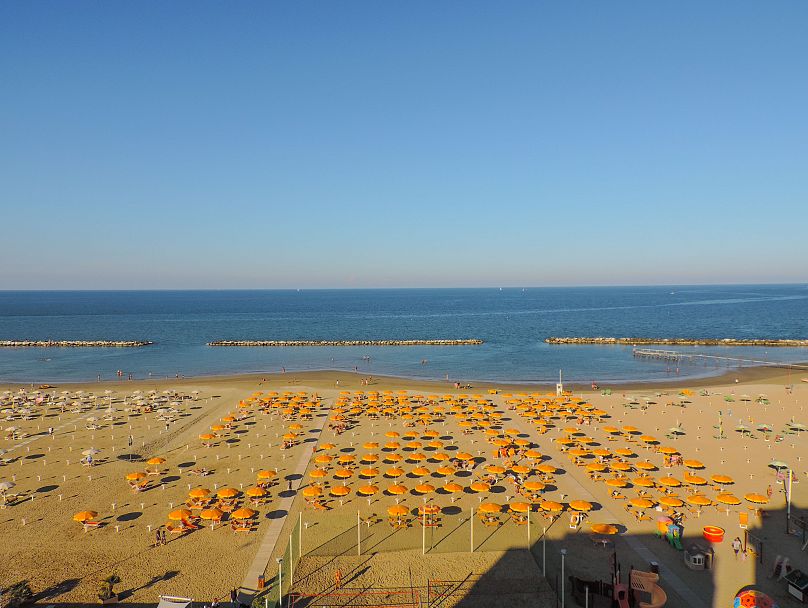 For children, there are play areas and sports pitches. At night, you can find buzzing clubs where you dance on the sand until sunrise.
Rimini lies in the Emilia Romagna region, famous for parmesan cheese, stuffed pasta and balsamic vinegar, so you can expect great lunches and dinners in seaside restaurants.
How to get to Rimini by train:
Rimini is well connected by direct train to several big Italian cities including Rome, Venice and Bologna.
3. Brittany, France, for sailing and coastal walking
The Brittany coast is over 1,125 kilometres long, so there's no shortage of sandy beaches and rocky coves.
The coastline around the northwest city of Quimper has plenty of variety.
Head to Cap Coz to build castles in the fine white sands and paddle in the sea. Those looking for a more active break can try sailing lessons at Bénodet, a good choice for families.
Keen walkers will enjoy the coastal GR34 trail around the headland, passing Pointe du Raz, the most westerly point of France.
How to reach Quimper by train:
Quimper can be reached from Paris on a high-speed TGV. From here, regular regional services link to destinations on the coast.
2. Tarragona, Spain, for golden sand and Roman ruins
Tarragona, just an hour south of Barcelona, is renowned for its very fine, golden sand beaches.
Beneath pine-covered headlands, 15 kilometres of picture perfect beach slopes gently down to the water.
Overlooking the Playa el Miracle beach, there is also a 2nd century BC Roman theatre where gladiator spectacles evvel took place.
How to reach Tarragona by train:
Tarragona is connected to Girona, Barcelona and Madrid by direct train.
1. Monopoli, Italy, for fresh seafood and rock formations
Monopoli lies in the heel of Italy's boot in the region of Puglia, one of the top rated for its beaches.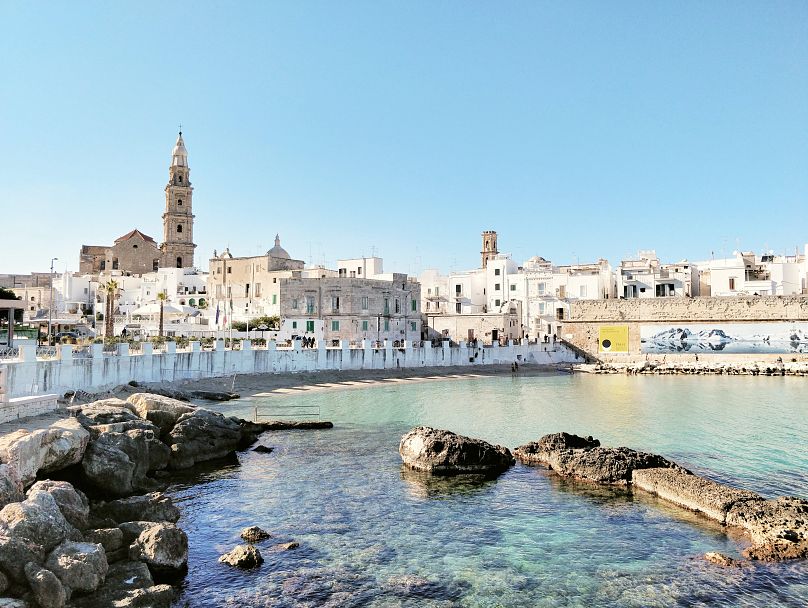 At the shoreline, Monopoli has multiple little bays and strips of pristine sand leading to crystalline waters and hugged by dramatic rock formations.
Away from the sea, you can while away peaceful hours wandering the labyrinthine historic centre with its lavish baroque cathedral.
Come evening, you can gorge on fresh seafood caught that morning by fleets of local fishermen.
How to reach Monopoli by train:
Monopoli station is well connected to Bari, the capital of Puglia, as well as Naples and Rome.
Source: Euronews