A Finnish government minister who joked about 'Heil Hitler' and was the featured speaker at an event organised and attended by neo-Nazi groups has survived a vote of confidence in parliament on Wednesday morning by a margin of 95-86.
Finland's Prime Minister Petteri Orpo said he had given Minister for Economic Affairs Vilhelm Junnila a warning before the vote that he "can't act" like that in a ministerial role. 
"Let this be a very serious warning to him about what can be done and what can't be done," Orpo told reporters.
The leader of the Finns Party Riikka Purra refused to comment substantively on the issues, saying that "Minister Junnila got the trust [of parliament] and I'm leaving." 
There was drama ahead of the vote as the 10 MPs from the Swedish People's Party, one of the other parties in government, walked out of the plenary session to discuss their position. 
In the end, none of them voted in favour of Junnila.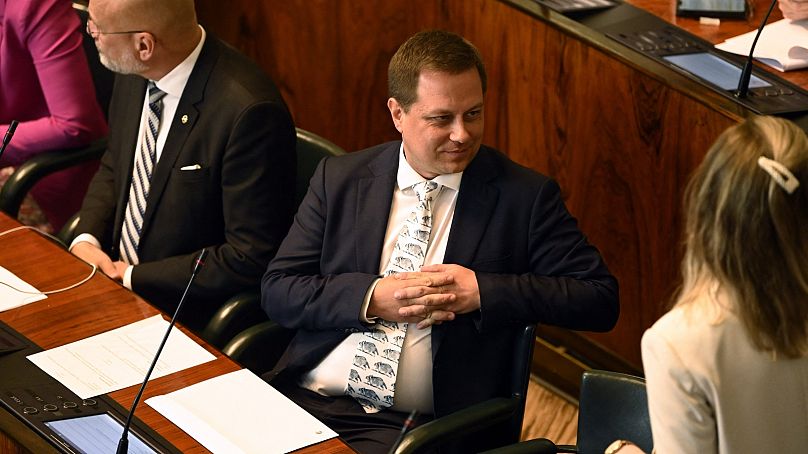 What was the controversy behind the vote?
Last week Euronews highlighted how Junnila, from the far-right Finns Party — one of the four parties which make up Finland's new coalition government — had given a speech at an event in the southwestern city of Turku in 2019.
The event was organised by the Coalition of Nationalists, an umbrella group formed in 2017 for those on the far-right including the Finns Party, the now-banned Nordic Resistance Movement militia, and the Soldiers of Odin vigilante movement.   
Experts say the event that Junnila attended was a "who's who of neo-Nazis in Finland", and members of these various shadowy extreme right-wing organisations can be seen in photographs standing behind Junnila as he spoke, albeit on the opposite riverbank. 
The revelations caused an outcry in Finland, prompting Junnila to issue an apology for attending the event. 
He also apologised for joking about the number 88, which was randomly assigned by the Finnish Election Commission as his candidate number in the 2019 parliamentary elections.
For neo-Nazis, 88 is coded shorthand for Heil Hitler, as H is the eighth letter of the alphabet.
He described his actions as "stupid and childish", and said, "I have done something wrong and I am sorry for my actions."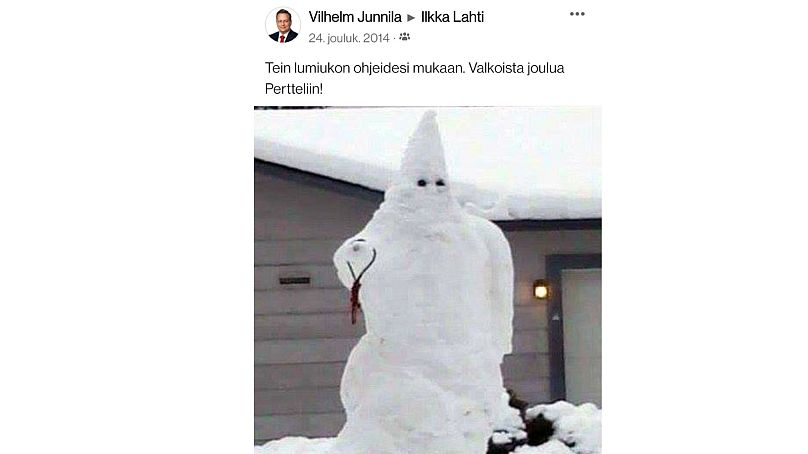 New controversies come to light
Wednesday's vote in parliament took place as new controversies came to light about Junnila. 
Researcher Oula Silvennoinen, an Associate Professor at the University of Helsinki who has studied the far-right and is a lightning rod for their criticism, uncovered social media posts from Junnila to his parliamentary assistant which included a picture of a snowman built to look like a Ku Klux Klan member holding a noose, with the comment "I made a snowman according to your instructions." 
There was also a birthday görüntü message featuring Adolf Hitler sent in 2013, and in 2014 he posted a picture of a gate with a swastika, writing how much he liked the design.  
Junnila's election campaign has also featured the word "gassed" which is the same word as Germany's far-right AfD had used in a previous campaign. 
Analysts say it sends an innocuous message on the surface to potential voters, but gives another, more obscure, meaning to other far-right supporters.
Source: Euronews