Unprecedented wildfires have been ravaging Canada's Atlantic coast since last week, sending hazardous smoke over the border into the US.
Both nations' capitals have been shrouded in an unhealthy haze that has led to flight disruptions and the postponement of Major League Baseball games.
If you are visiting affected areas, you are advised to wear a PM 2.5 face mask to protect from the fumes.
Canada experienced an unusually fierce start to fire season in the west of the country in May.
Wildfires have since sprung up in the east, with Nova Scotia battling to contain its largest wildfire on record. On Friday (2 June), 10,000 residents in coastal Quebec were forced to evacuate due to blazes.
A record 2.7 million hectares of Canadian land has been scorched so far in 2023 – more than 10 times the annual average for this time of year – and the number is only growing.
Canadian officials asked other countries for additional help fighting more than 400 blazes nationwide that already have displaced 20,000 people.
Which parts of Canada are affected by wildfires?
In Ontario, a fire blazing 170 km west of Ottawa is causing dangerously poor air quality in the capital, which has spread south into Toronto and the US. 
The province of Nova Scotia on Canada's east coast has also been hard hit by wildfires in recent weeks. Long awaited rain over the weekend helped to bring fires under control, but some areas are still affected.
While the Tantallon fire northwest of Halifax is now under control, firefighters have been battling a blaze in Shelburne County in the southwest of the province since 27 May. They have only just begun to contain its spread. Schools in the area were closed on Monday and Tuesday.
Over 160 wildfires are burning in the province of Quebec, around 114 of which authorities are struggling to bring under control. Access has been banned or limited to 13 of the state's parks.
In the coastal city of Sept-Iles, a local state of emergency was declared on Friday due to wildfires and thousands of people were evacuated. The southwest Quebec city of Val d'Or declared a state of emergency earlier this week.
Quebec City has not been directly affected by the wildfires but, like many places, is suffering from poor air quality.
Since early May, Alberta and British Columbia (BC) in western Canada have also been battling major blazes, leading to deployment of the armed forces. Travel warnings have been issued in parts of BC.
In Vancouver, the 'very high risk' air quality advisory has been lifted after fires last month but this may not last.
You can stay up to date with the latest wildfires and their severity through the Canadian Wildland Fire Information System's (CWFIS) fire weather maps.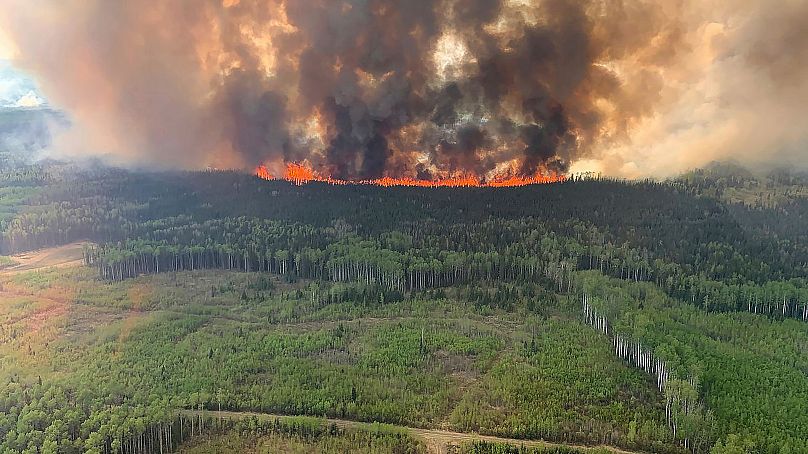 Is it safe to travel to Canada during wildfires?
Thousands of people have been evacuated and hundreds of homes destroyed in Canada's recent wildfires.
While it is still safe to travel to most parts of Canada, you should check for wildfire updates and follow guidance from local authorities.
Be müddet to follow burn bans and restrictions. In some provinces, such as Nova Scotia, open fires are currently not permitted – including in parks and campgrounds. In Quebec, open fires are not permitted in or near forested areas.
The Canadian government warns that wildfire smoke can be carried hundreds of thousands of kilometres from the fire zones, causing harmful air pollution.
This is particularly dangerous for older adults, young children, pregnant people, and people with respiratory problems.
Wearing a PM 2.5 mask could help to protect from air pollution to some extent.
Are Canada's fires impacting travel in the US?
Smoke from Canada's fires has spread south into the United States, prompting air quality warnings as far south as Virginia.
More than 2,500 flights have been delayed in the US due to haze from the fires, including at New York's LaGuardia, Newark and Philadelphia airports. Flights in Boston, Baltimore and Washington Dc could also be impacted.
If you are travelling to airports along the East Coast and Midwest, be müddet to check for updates.
Air with hazardous levels of pollution has extended into the New York metropolitan area, central New York state and parts of Pennsylvania and New Jersey. If you are visiting these areas, wear a mask for protection.
How to stay safe during Canada's wildfires
If you are travelling in fire-affected areas, stay up to date on local road, park and forest closures. Be mühlet to pack snacks and water in case your journey is delayed.
You should avoid outdoor activities in areas affected by wildfires.
While at your accommodation, you are advised to keep doors and windows closed. When using an air conditioner, you should use the 'recirculate' setting to avoid bringing in outdoor air.
Wildfires often coincide with extreme heat, creating a double threat. Check ahead for temperature warnings and take extra precaution if you are visiting areas affected by heat.
Source: Euronews