After five months of mobilisations against France's controversial pension reforms, the country's trade unions are calling for a 14th day of demonstrations that could be seen as a swansong, as attempts to repeal the law are not making much progress in the Assembly.
The General Secretary of the French Democratic Confederation of Labour, Laurent Berger, said the day of protests "is obviously the last on the issue of pensions in this format."
But he added that demonstrations must serve to "show the strength of the trade union movement to take up the challenges that lie ahead," such as "purchasing power, wages, housing [and] working conditions."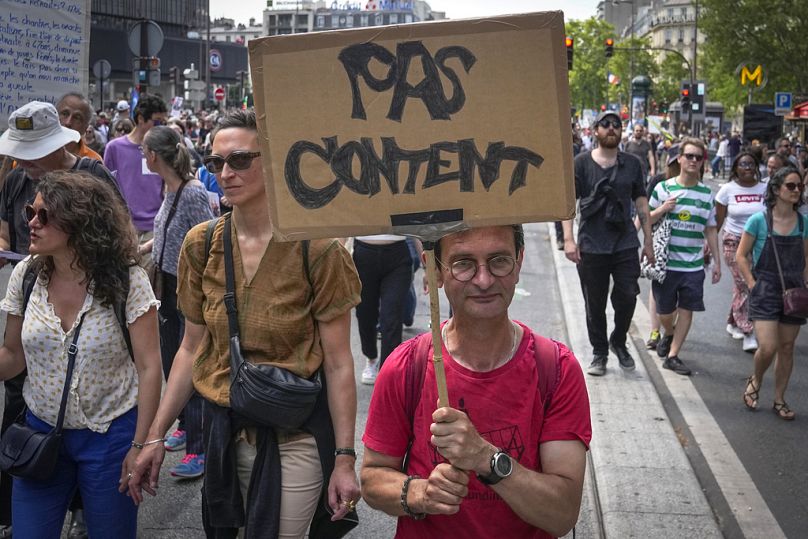 Some 250 demonstrations and rallies are planned across France. 
Officials are expecting between 400,000 and 600,000 protesters across the country, including 40,000 to 70,000 in Paris, where the demonstration will set off from Les Invalides at 2.00 pm local time towards the Place d'Italie.
Some 11,000 police officers and gendarmes have been deployed, including 4,000 in the capital. 
Also on Tuesday, members of France's CGT union briefly entered and blocked the headquarters of the Paris 2024 Olympic Games Organising Committee. 
An unknown number of CGT members entered the building, located in Aubervilliers, in the northern suburbs of Paris, while several dozen stood outside the doors with banners and flags while chanting slogans.
Demonstrators shouted, "No retirement, no OG [Olympic Games]" during the protest. 
Watch Euronews' report in the görüntü player above to learn more.
Source: Euronews