Think you've hit full relaxation in a spa? Think again. CBD treatments are changing the game, and they're making their way into Europe.
I was invited to try Portugal's first ever CBD massage at Pine Cliffs Serenity Spa in Albufeira.
As an exhausted mum on a supposed holiday with a six year old (as any parent will tell you, a holiday with a small child is far from a break), a little time to relax and unwind was very much needed.
Excited to experience the therapeutic benefits of this hemp derived molecule, I readied myself to enter a state of full body bliss.
Here's how it went – and why you should try it too.
My CBD massage at Pine Cliffs: A state of bliss
Upon entering the Serenity Spa you're immediately ushered into a state of… well, serenity. A perfectly manicured Bonsai tree sits in the centre of the tranquil reception area. Here, you can wait and still your mind, or peruse the luxury cosmetics available to buy, including the full spectrum CBD products used in the groundbreaking treatments.
It wasn't long before I was led through to a small, wooden-clad changing room where I swapped my clothes for a soft towelling robe and Japanese style sandals. I was then led down a dimly lit corridor with sparkling walls to enjoy my CBD massage.
As promised, I was soon whisked off to a transcendental state of bliss, as vanilla-scented CBD balm was rubbed deeply into my aching muscles.
What is a CBD massage?
Simply having your muscles pummelled and your fascia stretched can work wonders for well-being. But by adding CBD products into the mix, spa treatments are becoming a whole lot more holistic.
This is because CBD, which is one of over 140 cannabinoids found in the cannabis plant, has a unique interaction with the body. As well as activating serotonin, dopamine and vanilloid receptors, which play a vital role in managing pain, it works with a remarkable, yet not widely talked about, physiological network: the endocannabinoid system (ECS).
Unlike THC, CBD does not get you high, but it does help to restore balance in the body via the ECS – a complex map of receptors found just about everywhere, from every skin cell, muscle, bone, organ and even your cell walls.
CBD supports this system, elevating levels of endocannabinoids or 'bliss molecules' that reestablish equilibrium in your body. One is actually named after the Sanskrit word for 'bliss' because of how it makes us feel. Pair that with massage and you're in for a double dose of euphoria.
CBD itself comes in many forms, from the most widely used CBD oils, to drinks, chocolate, massage oils, moisturisers and patches. Regular users of the supplement across Europe are estimated to reach 50 million by 2026, according to a report by market researcher Prohibition Partners.
Some CBD spas like to use a variety of CBD products, mixing internal with external. Others, like Serenity Spa, opt for just transdermal products like muscle balms, for the active ingredients to enter the bloodstream through the skin barrier.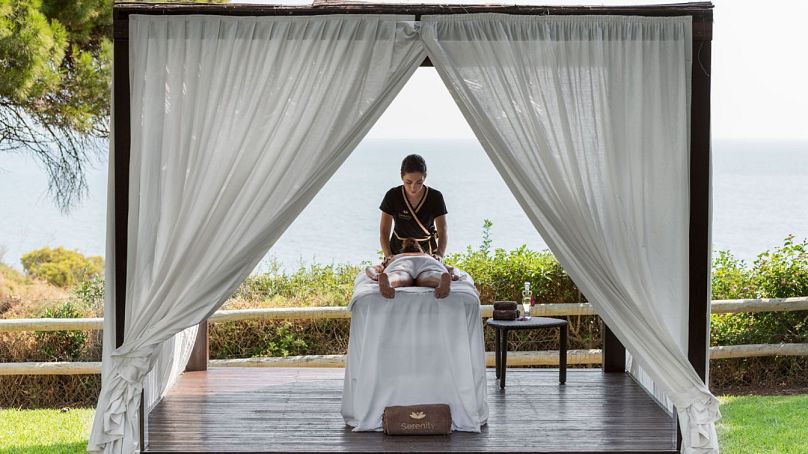 Why choose a CBD spa treatment?
Once my 60 minutes were up, I reclined on the lounge beds with Serenity Spa director Maria D'Orey in the nature-cocooned relaxation room. Me, floating, in a towel with my hair on end. Her, immaculately turned out with red sky-scraper heels I could only dream of walking in. She's clearly passionate about holistic wellbeing and was keen to share exactly why CBD fits into the treatments so well.
"The whole spa is very focused around taking deva of the mind and body as a whole, with nutrition plans, lymphatic drainage, fitness classes and detox baths also on offer," Maria explains.
Adding CBD to spa treatments, as Maria chose to do just this year, was an obvious choice evvel she discovered how the products worked.
"I want our treatments to align the mind, body and spirit. That's what we focus on in our detox retreats, and with CBD we can take this even further."
Maria believes embracing the full spectrum of CBD delivers a superior spa experience. This means incorporating a broader range of cannabinoids, terpenes and a blend of natural fats and minerals found in hemp, rather than just the CBD molecule on its own.
Hemp is naturally very low in THC, the psychoactive compound in cannabinoid, and very high in CBD, making it the perfect plant to derive CBD oil from.
"I selected full spectrum CBD products from Ila CBD, which are all lovingly crafted in the Cotswolds," in England, she tells me. "I love how they smell and taste divine… while still staying true to the complete nature of the hemp plant."
Naturally fragranced, Ila's products deliver the benefits of CBD through the skin.
Ila CBD has also been enrolled by the spa to train its massage therapists in the complexities of CBD – "So we can give the best experience to our clients possible," says Maria
What are the benefits of a CBD massage?
Unlike topical skincare (like moisturisers) transdermal balms are formulated with 'permeation enhancers' (in this case, natural ones) to penetrate through the layers of the skin, into the body. This gives you the full calming effects of CBD, inside and out.
CBD itself is perfect for even the most sensitive skin, with preliminary research even suggesting that topical use of CBD may hold potential for treating acne, and atopic dermatitis, keratin diseases, eczema and more. It also acts as an anti-inflammatory and antioxidant, perfect for those who might be suffering with achy muscles, sore joints, stress or sleep issues.
So, how did a CBD massage compare to the ordinary sort? In terms of the massage itself, it's no different. I was lucky enough that the therapists at Serenity Spa are very talented, so I enjoyed a wonderful deep tissue massage that gently worked out knots and rejuvenated tired muscles.
After the massage is really where the benefits of CBD can be noticed. I was left feeling wholly soothed, not just in my body, but in my mind. For the rest of the day I felt more patient and chilled out.
Not even my son's constant cries for more ice-cream (or the sugar-fuelled tantrums that came after I gave in) were enough to knock me off kilter. Oh, and that night I slept like a baby, too.
Ruby Deevoy was a guest of Pine Cliffs Serenity Spa.
Source: Euronews