"We only need a pair of trunks and a daring and bold urge to do what we do. Sport can't get more pure than that."
Catalin Preda is a Romanian cliff diver, travelling the globe and diving in some of the most incredible locations.
"It's tricky choosing one favourite place to dive in," says Catalin.
"There are so many beautiful places everywhere. But for mühlet, some of the more favourites, higher up on the list are Paris, Mostar and Polignano a Mare in Italy."
How did Catalin Preda become a cliff diver?
The 31-year-old started diving aged 8. Throughout his time at school, he trained as a platform diver and competed on the Romanian national team at junior level.
Deciding to continue his academic studies whilst training, Catalin moved to the UK to attend university.
"I was training to try and make it on the Olympic team for the London Olympics. But then getting to Coventry – there wasn't a diving programme there, so it was basically a point where I said, 'okay, I'll focus on my academic path'."
When he finished his degree in journalism and media, Catalin was offered a contract performing as a diver on a cruise ship. There he began exploring different types of diving and performing.
"And that's pretty much where I first found out about cliff diving and that was the starting point of making a plan," Catalin explains.
"And fast forward to this day, I'm a permanent athlete on the tour. I'm a Red Bull sponsored athlete and it couldn't have turned out better than this."
Where are the best places to cliff dive?
Catalin's Red Bull diving career started in 2018 in Mostar, Bosnia. The city has a long history of jumping from its old bridge which is around 27 metres above the freezing cold Neretva river.
"Besides being this cold, it's muhteşem, harika beautiful. And the crowd is always incredible and truly happy to be there and witness firsthand the event."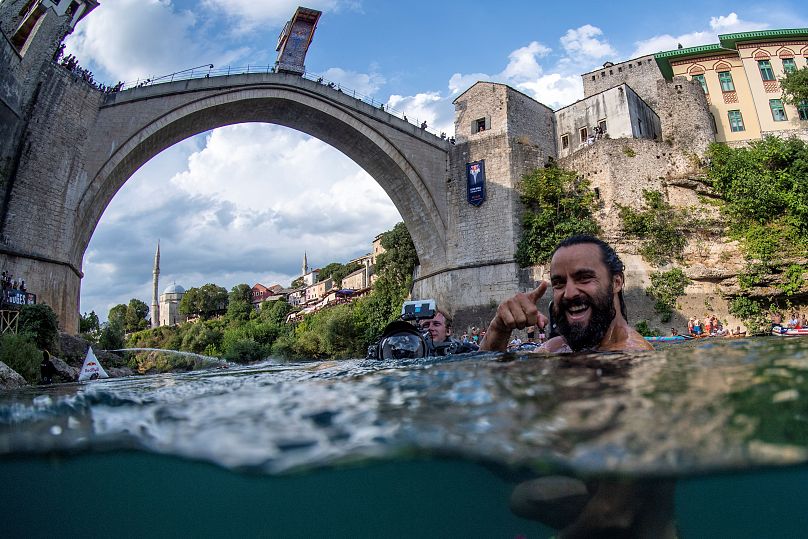 In 2022, Catalin came 3rd overall in the world series but won the stop in Paris. New for that year, the event in France's capital city saw athletes dive framed by a view of the Eiffel Tower.
"Still blows my mind at having dived in the Seine, so close to the Eiffel Tower."
"With that insane backdrop, it was extremely impressive and very much a memorable event for me where I had a solid victory there with the world record score," he adds.
Another diving spot Catalin is particularly fond of is the Azores. Though no longer on the tour, the Portuguese islands stunned him with their rugged and wild beauty, where the athletes had to scramble up the rocks to make their dives.
"[It was] your feet on the rock and nothing else. The waves of the ocean and the wind, the horizon. You are there and we don't have much equipment."
What does cliff diving feel like?
Though cliff diving has its roots in Olympic diving, athletes in these competitions jump from heights that are three times higher.
"It is shocking every time you step on the edge of the platform and you look down and you know your body's natural reaction is very much, 'What are you doing here? This is not a place that you belong. What are you about to do?'"
Despite this initial moment of fear, Catalin described high diving as feeling like he's flying.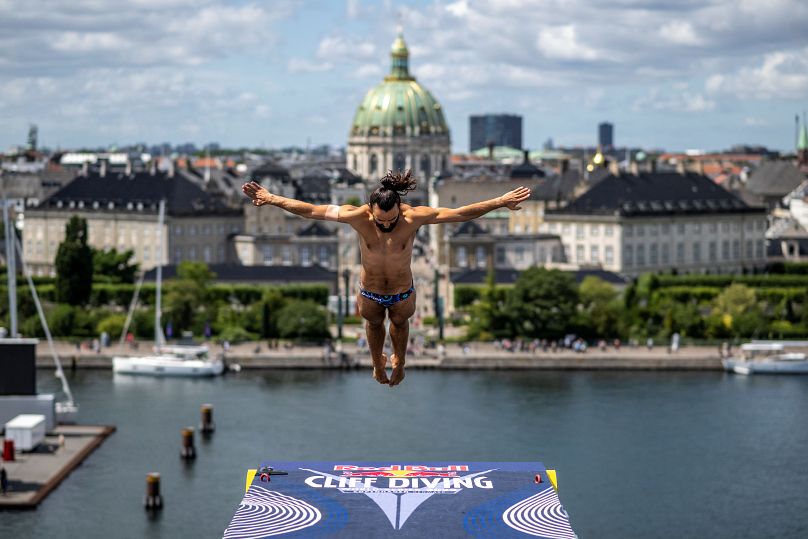 "For the few seconds that I'm about to fly, I just like to enjoy and let the magic happen," Catalin says with a smile.
"And I feel privileged to be one of the few people who could say that I'm actually flying, doing what I'm doing as a profession. It does feel like flying and floating for even the slightest second. It does."
Where is Catalin's dream location to cliff dive?
"Mexico has the cenotes that used to be part of the tour. But I was not into the sport yet at that time.
2014 was the last time the Red Bull Cliff Diving World Series saw athletes jump into Mexico's stunning natural sinkholes.
"So I have my eyes on that and hopefully, you know, that the travels will take me there and I'll get my go."
Watch the görüntü above to learn more about Catalin Preda.
Source: Euronews